Daily Archives:
November 1, 2021
"To change the world, we need to combine ancient wisdom with new technologies." — Paulo Coelho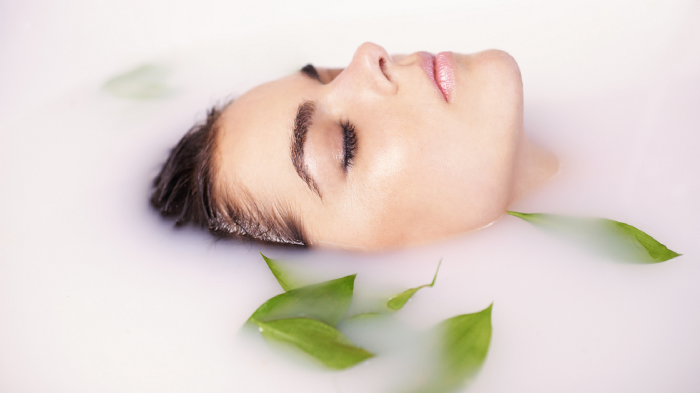 Milk, yogurt, oil, tea, honey, roses, saffron, salt, and pomegranates. No, not doing my shopping list but some of the most effective, tried-and-true ingredients that have endured centuries. It seems like our quest for beauty and the mythical "fountain of youth" have been around for thousands of years.
Of course, back then the ancient ladies could not just walk into a drugstore or cosmetic shop to get their stash of beauty products. So, they concocted their own creams with the use of natural and plant-based ingredients to have smooth and flawless skin. And, interestingly enough, in our modern world, we are making our way back to the roots of these ancient beauty traditions.
Let's take a look at some of these beauty traditions that lives on to this day.
The practice of bathing in natural ingredients has been around for centuries, and various cultures have very specific bathing rituals. In Japan, different regions will infuse local ingredients into the bath water, such as green and black tea leaves, whose antioxidant properties soothe and detoxify the skin.
Cleopatra (the queen of beauty innovations) is known for using milk baths infused with all manner of fruits and flowers. Milk contains lactic acid, and we use a derivative of it today in the form of an AHA to exfoliate the skin, lighten dark spots, and improve the look of fine lines and wrinkles. There are a few other nourishing, plant-based options that you can use for your milk bath — coconut milk, oat milk, almond milk, goat milk, and buttermilk.
Similar to the effect of milk baths, yogurt was used by the ancient Greeks also as an AHA peel. They would mix yogurt with olive oil and apply it to the skin to treat sunburns and other skin conditions. The yogurt acts as a gentle exfoliant while the olive oil soothes and moisturizes.
The ancient Egyptians too were a big advocate for olive oil and used this along with many other ingredients to fight wrinkles and preserve their youth. Castor and sesame oils have also been used for centuries but one which has truly stood the test of time is moringa oil. Moringa seed comes from the moringa plant found in the Himalayan mountains. The seeds of the moringa tree contain high levels of oleic, palmitoleic and linoleic acids and contain vitamins A and Cand hydrates and nourishes the skin.
We all know how costly saffron is but Cleopatra is said to have added these bright orange stamens to her legendary milk baths. Studies found that saffron is a natural sunscreen and more recently scientists have discovered that saffron from Morocco's High Atlas Mountains contains high levels of protective antioxidants and firming glycans, that protect, organize and stabilize the skin maintaining tissue structure, porosity and integrity.
And talking of mountains and high altitudes, Damask roses have historically been the preferred type of rose to treat the skin and body. Introduced by the ancient Persian empire, where the rose flourished, distilled rose water was then brought to Egypt and Rome through trade routes. It is often found in moisturizers and creams, but rose water is an effective toner on its own and is a great anti-inflammatory which can calm rosacea and eczema.
Salt scrubs have also been practiced across Europe and Asia since ancient times, incorporated into traditional bathing rituals. The coarse mineral acts as an effective physical exfoliator, sloughing away dead skin. Adding a few drops of essential oils to the salt makes the whole experience both functional and therapeutic. Lavender and eucalyptus work particularly well.
Pomegranate seeds can be arduous to extract from the fruit, but pomegranates are known to increase the potency of sunscreen, hydrate the skin, and fight free radicals with their high antioxidant content. They are now a popular ingredient in masks, moisturizers, and health elixirs.
A common ancient Greek remedy, honey, contains a plethora of antibacterial ingredients. Mixing it with olive oil creates a healing face mask that provides the skin with a boost of vitamins. Manuka honey, in particular, is now used in burn units and for ulcer treatment because of its exceptional healing ability.
And finally, another good skin care ingredient loved by the Ancients is turmeric. Its antibacterial and anti-inflammatory properties help to prevent skin problems like pimples and acne.
So, the next time you primp and pamper your skin, recognize and give thanks to the ancient founders who intuitively used nature's gifts.

For more wellness tips, call us at Skinsense Wellness at (323) 653–4701, or check out our other blogs on Medium. And for skincare services, please visit us at 8448 W. Third Street, Los Angeles, CA 90048. We have re-opened our doors and are happy to welcome you all back.