Daily Archives:
May 28, 2022
"Why yes, they are my lashes… I bought them."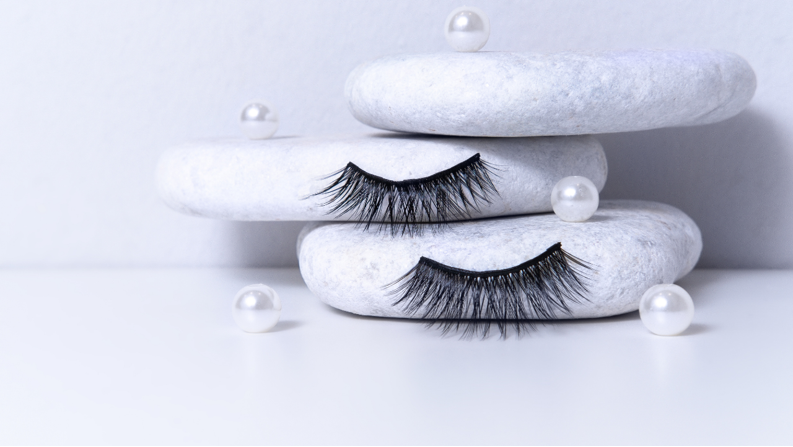 Long, dark lashes have long been associated with beauty throughout history. From as early as 4000 BC, women in ancient Egypt took to emphasizing their eyelashes with kohl and other ointments. This rudimentary eye makeup not only accentuated the eyes, but it also served as extra protection from the sun. A few thousand years later, Roman women also used kohl to darken their eyelashes. At the time, long, full eyelashes were seen as a sign of chastity. That's right… it was actually believed that a woman's eyelashes would fall out if she had too much sex.
In today's world, we have mascara and eyeliner to give them that extra lift. And admit it, Kim Kardashian's perfect eyelashes just make you green with lash envy. And, you know what? I don't blame you. Long, full eyelashes are every woman's dream, me included. They amplify the eyes and produce a feminine sultry vibe that many women want.
So, get ready to bat an eyelash, here's everything you need to know about our favorite facial hair.
Lash facts
The focus on eyelashes is often for their aesthetic beauty. But eyelashes also serve a critical function in eye safety. They are the first line of defense for your eyes, keeping airborne dirt, dust, lint and other debris from reaching the delicate eye tissues.
With eyes open, eyelashes catch some airborne debris, but when closed, eyelashes form a nearly impenetrable barrier against foreign irritants in the eye.
The lash itself is composed of the shaft and bulb which connects to the blood vessels around the eye and has a life cycle of between 4 and 11 months. The lower lid typically has between 75 to 80 lashes in four rows, while the upper lid has between 90 to 160 lashes in five or six rows.
Healthy eyelashes can grow to around 12 millimeters and although they are meant to have a slight curvature, they can very often grow straight out or in odd directions.
What causes damage to our lashes? No, contrary to what ancient Romans believed, too much sex is not one of them.
Not removing makeup at night before going to bed. Use a proper eye makeup remover, not your usual facial cleanser, and be gentle. Dab your eyes rather than rubbing and scraping them.
Irritating or drying makeup ingredients. Use good quality cosmetics and pay attention to the shelf life of each product. And remember to change you pencils, liners and mascara every six months.
Makeup allergies. If your eyes tend to be sensitive or you suffer from allergies, use hypoallergenic or clean makeup to reduce the chances of irritation.
Forceful use of eyelash curlers. Use lash curlers occasionally. For a more gentle approach, use an eyelash comb every day.
Overuse of false eyelashes and rough removal techniques . To remove false eyelashes, soften any adhesive with eye makeup remover. Pinch the outer edge of the false eyelash strip and gently pull away from the lash line. And keep your reusable false lashes clean by removing any lingering adhesive with a makeup remover.
How do you properly care for your lashes?
Brushing them daily would be a big help if you would rather not use mascara but still want your lashes to look long and full naturally. Use a clean and soft bristle mascara wand and be careful not to brush too harshly or for too long as this could cause them to fall out.
Moisturize lashes with vitamin E, castor, coconut, or almond oil to keep them soft, pliable and fuller looking. Apply with a clean mascara wand or a cotton ball before sleeping and just rinsing the conditioning treatment in the morning.
Invest in an eyelash serum. Used daily these serums not only maintain the health of the lash but promote growth.
Take breaks from wearing any eye makeup and false lashes whenever you can.
Making a few changes to your diet can dramatically improve the health of your eyelashes, along with your skin and your hair. Make sure you're eating enough protein, leafy greens, and healthy fats to support healthy hair growth. You may also want to consider supplementing with Biotin and vitamins C, D, E and H. These are extremely helpful in keeping your eye lashes full and healthy.
While mascara, of course, is still one of the most popular beauty products out there, it isn't the only beauty product/treatment available to those looking to boost their lashes. Eyelash technology has evolved to also include semi-permanent extensions, growth serums, eyelash tools and more.
Here are some of the popular eyelash products, treatments and technology to try out:
Eyelash primer – a no flake peptide formula with mini fibers that hang on to your natural lashes. It preps and boosts the lashes so they appear much longer when paired with mascara.
Lash extensions – these are semipermanent lashes that are hand-glued on top of your natural lashes. Eyelash extensions, when properly cared for, can last for 6 – 8 weeks until they fall out like your natural lashes. Your lash stylist can then fill in the missing pieces at this time or earlier if you want to wear them indefinitely.
Lash Lift – it's a 45-minute procedure where an aesthetician will use an adhesive and a curling tool to press your own eyelashes up, basically perming them, to make them look longer and thicker. Make sure the glue used contains butyl cyanoacrylate and octyl cyanoacrylate instead of formaldehyde—they're less toxic to the eye area and lashes. When done properly the results can last for up to six weeks.
Eyelash Tinting – uses a semi-permanent dye on the lashes that works similarly to hair color and will fade after 2-4 weeks. The dye reveals darker lashes and makes them appear naturally longer and fuller without mascara.
For more lash care and skincare tips, call us at Skinsense Wellness at (323) 653–4701, or email us at skinsense@skinsensewellness.com. And for skincare and lash services, please visit us at 8448 W. Third Street, Los Angeles, CA 90048. We will be happy to see you.