Category Archives:
Body Care
A significant majority of men do not even care about how thick their eyebrows are. They do not spend a lot of time fussing over them–plucking, shaping, or waxing. But brow shaping is big business. Women spend millions each year to get that perfect brow.
For instance, according to the British Association of Beauty Therapy and Cosmetology, in 2014, the eyebrow industry in the UK was worth about £15.5 million (US$20 million). The figure reflected a 53% increase over the previous year. By 2016, the industry grew to £20 million (US$25.8 million).
In recent years, however, the brow shaping industry grew exponentially. The growth could be tied to the popularity of social media and influencers. You only have to type
"brow bar near me"
or
"best eyebrow waxing near me"
to get millions and millions of results. Then you will understand just how serious the industry is.
Nevertheless, there are still myths surrounding the brow shaping industry. Here are some of those misconceptions:
1. Waxing or plucking makes them thicker when they grow back
Two of the more popular brow shaping methods are waxing and plucking. For one, you get the most value for your money because the results are smoother, and they tend to last longer before growing back. However, one common myth about waxing is that your eyebrows will grow thicker when they grow back. When you pluck, you remove the hair follicles from their roots. But they would not grow uneven, and some do not grow back at all.
2. All eyebrows should be shaped the same
Unfortunately, even if thicker eyebrows look great for model Cara Delevingne, it might not be the best shape for you. That is why you should always leave brow shaping to professionals because they know which shape complements your face. For example, for a rounder face, you need an angular-shaped brow that arches and with longer ends. If you have a diamond-shaped face, you need a more linear shape to your eyebrows.
3. Eyebrow color should match the drapes
Another common myth about brow shaping is the color of your brow. Some beauty clinics are often asked to match the color of their client's eyebrows with the hair. But any professional will tell you that it is not true. You only have to look at Asians who have jet-black hair but have brownish undertones to their brows. Of course, contrasting colors will likely not end well. The crucial thing to remember is to match the color range of your hair's dominant hues. You also have to match your brows with the tint of your skin. For example, if you have darker skin, go for brown or light brown eyebrows.
4. Stick to one brow shaping method
Women tend to stick to one brow shaping method for fear that they would grow back unevenly. But the concern is unwarranted. Tweezing will pluck the hair from the roots, but it grows back after about a month. However, when you do waxing on your own, the ensuing trauma can cause the hair follicle to stop growing. It's great if you love the results. But what if you end up with uneven eyebrows and they are not growing back?
The trend of fuller or thinner brow seems to change over the years. Nowadays, it seems everybody is jumping on the fuller eyebrow bandwagon. Brow shaping is dedicated to achieving fuller or thicker eyebrows, just like what they see stars and models wear. Again, you have to consider the shape of your face before mimicking your favorite celebrity. You do need to allow professionals to shape your brow since there is the right and wrong way to do it.
Brow shaping is the grooming of the eyebrows either through plucking, pulling, cutting, trimming or removing the hairs to create a particular form or shape that'll better suit the facial structure and enhance facial beauty.
Brow shaping is undeniably a sure way to enhance facial beauty, little wonder; people pay large sums to have their eyebrows professionally shaped to perfection by expert beauty therapists. In brow shaping precision is key; any little blunder could ruin the overall results leaving you with an unsightly and badly shaped brow, instead of accentuating your looks.
Like most things, there is no one way of shaping the brow, there are different methods that can be used to achieve perfect brow shaping.
Here are some popular brow shaping methods, along with their pros and cons to look out for:
TWEEZING
Tweezing involves using a tweezer to trim and cut the eyebrows into a desired size and shape, it's one of the easiest and oldest brow shaping techniques. The best time to pluck is after a shower as the pores are open; making it easier to remove hair.
Pros: Tweezing is known to deliver plucking that guarantees a neat, beautiful arch.
Cons: It is time-consuming and requires precision. A tiny mistake could spoil the whole thing.
WAXING
Eyebrow waxing is a technique that involves spreading hot or cold wax on the hairs around the desired shape of the brows. The wax is then pulled quickly to remove hair and produce the desired brow shape.
Pros: The method delivers a clean, neatly defined shape and long-lasting results.
Cons: It is not a good option for people with sensitive skin as skin irritation may occur, or in extreme cases; the skin will peel off with the wax.
THREADING
Eyebrow threading is a brow shaping method that uses cotton threads looped together, to trap and pull out hair strands. It's more precise than waxing and usually less painful. It's also faster than both waxing and plucking and costs less. However, you might need some practice before threading your brows to avoid doing it poorly.
Pros: It's less painful, inexpensive, and unlike tweezing, which removes single hairs, it removes several hairs at once.
Cons: The technique requires that a part of the thread is held with the mouth; which is unhygienic.
ELECTROLYSIS
An aesthetician inserts electrical current into the hair follicles through a small needle, this destroys the hair and prevents it from growing back.
Pros: It's a more permanent brow shaping solution because the hairs are killed off at the roots.
Cons: The brows usually thin with age, leaving you with an almost bald brow as you get older, plus it's nearly irreversible.
Brow shaping is a fashionable way to improve looks, elegance, glamour, and make you feel good about yourself. But, the processes of achieving a flawless arch and shape that perfectly aligns with the contours of the face; can be a tedious (and sometimes painful) process – though the results far outweigh the troubles.
If you'd like to have professional brow shaping service anytime soon; we'd be more than happy to treat you to our excellent range of services, and at reasonably low rates. Feel free to contact us here now.

Skin Sense Wellness Customized Facials You Don't Want to Miss
At Skin Sense Wellness our customized facials are the most relaxing treatments imaginable. If you would like to give your loved ones the perfect gift, or give yourself the pampering you deserve, book a reservation at the Skin Sense Wellness. We can make anyone's troubles melt away with our facials!
Your face and, more importantly, your skin is one of the main things people notice when they meet you for the first time. It can make or break an initial impression. So why not show your best self?
Proper skin care is essential for staying youthful. Basically, there's no better way to keep your skin happy than with our many Skin Sense customized facials.
Where to get a facial near me
Skin Sense Wellness is the go-to place for all types of facial treatments. Our customers get to choose from:
Deep cleansing treatments
Lunchtime treatments for those short on time.
European style facials that include a face, neck and shoulder massage.
Customized peels.
Deluxe treatments, using electrotherapy.
The best facial spa near me
If you're in a rush, but you want your skin to glow try Le Petit deep clean facial. It is fast yet thorough and will leave you looking fresher than ever!
For teenagers battling acne, we customize every treatment and give nutritional and lifestyle counseling.
Getting ready for a big event? Don't sweat it. The Glow & Go Treatment is just the thing to make you look like a million bucks for any occasion. What's more, it only takes 45 minutes.
For a more intensive treatment try one of our deluxe facials. These include facial rejuvenation and firming protocols and we get amazing results, which is why they are so popular. Just make sure to book in advance.
Gift certificates
If you would like to purchase a gift certificate for customized facials, we also have a wide variety of other treatments to choose from, including:
A relaxing day of beauty, suitable for men and women
Body buffer and deep tissue massage for stress-relief
4 Guinot eye logic treatments
Customized beauty package that you select
Yet another great thing about our customized facials is that you can purchase a series of five treatments and get the sixth one free! This offer is available for any of our services.
Why choose Skin Sense Wellness
One of the main reasons why you should choose our customized facials is because of our dedicated staff. We are passionate about skincare and we pride ourselves on providing a calming atmosphere for our clients to relax in.
Ultimately, we're here to help you get rid of that everyday stress that wears you down. Book one of our customized facials today, and you will feel your worries melt away!
Customized Facial Treatments * Call (323) 653-4701 – Skin Sense Wellness
No-one likes a furry lip, heavy brow or hairy chin!! At SkinSense we take care of these areas using a blend of waxes depending on the skin's sensitivity. A well manicured brow can make all the difference to the shape of the face and for extra emphasis we often tint the brows at the same time. We encourage our clients to come in regularly every two to three weeks to prevent in-between tweezing at home as this can spoil the shape.
For the extra delicate skin and client, we will happily tweeze the brows although this obviously takes a little more maintenance.
Quick tip: Nancee Daly, our veteran facialist, uses a light application of oil on the brow and lip area before waxing sensitive skin. This diminishes redness.
Chin hair often increases along with stress levels and hormonal shifts especially menopause, and in some cases facial hair can become darker at these times. We are cautious at SkinSense about removing facial hair with wax. It can cause break-outs and irritation on more sensitive clients so we often do a very small area to start with. We avoid waxing facial hair on acne conditions – this can exacerbate the break-outs and cause further problems.
Quick tip: Vicki DiPietro, our Brazilian wax expert, often uses two types of wax on lip hair particularly if it is coarse – hard wax first and then our resin wax to follow.
We do not use a honey wax as some clients are allergic to honey and we make sure that clients stop using all prescription and over the counter retinol topicals one week before their waxing appointment. This prevents any skin being lifted along with the hair. Clients on Accutane cannot have any waxing services while taking the drug.
And as for the rest of the body, we offer underarm, regular and Brazilian bikini waxing (see my post: "Wax on, wax off") full arm, leg and back waxing. Back waxing is very popular with our male clients and as with all our waxing services we counsel our male clients carefully. Exercising before treatment is very important to avoid break-outs and wearing a light cotton shirt rather than a synthetic material post treatment is less irritating to the newly waxed area. Salicylic acid, camphor and tea tree lotions are great for calming any irritation.
We recommend body waxing every 3-4 weeks depending on re-growth. And it is true over time regular waxing does diminish growth. Like many things in life consistency counts!
Onychomycosis, or nail fungus, is a common and difficult problem that many of my clients ask me about, especially during the summer months when feet are on display. Until recently, topical treatments were not very effective. However, my dermatologist, Steven Weiss, MD., recommends two new topical solutions, Jublia and Kerydin, that have demonstrated better results. They're most effective for limited nail involvement and need to be applied daily for 1 year. They require less monitoring than the oral medication, Lamisil (Terbinafine) which can be effective but has certain contra-indications.
By the way, laser treatments, which have been hyped in recent years, are not effective for clearing nail fungus. Recurrence rates are high, and the only thing they affect is your pocket book. See my post about "A Cautionary Tale of A Big Toe and Fungus".
Here are a few preventative steps you can take to prevent nail fungus:
1. Change out of tennis shoes and socks directly after working out.
2. Check that all your shoes give you plenty of toe room and fit properly so that your body weight hits your heels to prevent any bruising to the big toe.
3. Make sure that you go to a good pedicurist consistently who does not believe in severe cuticle trimming and pushing but regular maintenance.
4. Leave the nails free of polish once in a while. Also, don't leave the same polish on for too long.
5. After showering make sure the feet and nails are dried properly. Trapped water can lift the nail and provide the perfect place for fungus to take hold.
6. One final tip – avoid too much sugar in the diet. Strange as it may sound, this too can cause foot fungus.
Shoes remain one of the most important aspects of fashion. The perfect shoe can create an image of professionalism, affluence, the personality within, or just plain height. And women in particular are more willing to pay for "the right look" not only with their credit cards but with the comfort of their feet.
This, however, can cause long-term pain in the feet, knees, and back which then leads to discomfort when standing and walking. Heels challenge the body's ability to balance and all of the muscles of the legs must work to stabilize the ankle. Walking is split into two phases. The swinging phase and stance phase. Any shoe that inhibits the weight from falling where it should can lead to pain. High heels are a major culprit of this because both "push-off" and "heel-strike" happen mainly on the ball of the foot with little or no support at the ankle. Even those cute little flats, mules, or sandals that don't offer support to the ligaments of the arch, toe joints, or ankle will throw off the rhythm of your natural gait.
Bunions, hammer toes, and pump-bump (that bony enlargement at the back of the heel bone) can make even the prettiest of shoes lose their luster and let's face it, when your feet hurt the whole body hurts. So what can we do because we know Manolo Blahnik is not going out of business any time soon?!
First off, buy shoes that are the right size. There is no shame in a size 11 except when it is crammed into a size 8 and there are toes falling over the front edge. Trying on shoes after a full day is best because your feet are already hot and swollen. This will give you a much more realistic idea of how those shoes will feel long-term. (The only "breaking-in" will be happening inside of your foot, not the shoe.) And try to look for 2 to 2 1\2 inch heels. This is about the difference of when we stand on our toes therefore our body can still find it's center of balance. Wearing those spiky, pointy numbers for as little time as possible with down time in between is best.
If you know a pair of shoes becomes uncomfortable after a few hours, have back-up. It seems quite customary now for flatter shoes to be worn at weddings after the main ceremony is over and the eating and dancing has started. I think this is a great idea. And to make dressy heels more comfortable, invest in foot accessories that cushion body weight inside the shoe.
When you get home and can finally give your tired feet some attention, sit down, take off your shoes and swing your ankles in slow circles. Gently massage your arches and Achilles tendons on both feet.
A foot soak is a great idea. (See recipes below.) Start with cool water for about 10 minutes. This will diminish any swelling and discomfort. Then add hot for another ten. Follow that with more circular stretches. Then reward yourself with a light layer of any foot cream with Eucalyptus, Peppermint, Bayberry, or Juniper. Aaaaah!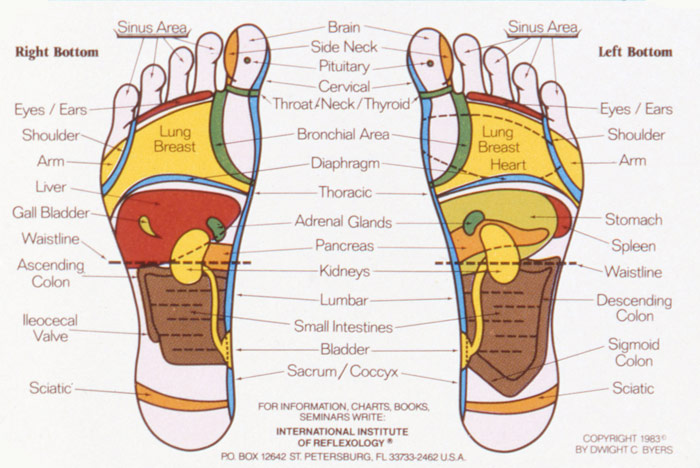 A full hour of reflexology will directly access the ligaments and tendons in the foot and will help to send a message of healing to other parts of the body, like the lower back. Regular pedicures are also essential. Keeping the nails short makes a big difference to how a shoe fits.
Foot soak recipes:
Fill a bowl with enough hot water to cover both feet to ankle height. Add ½ cup Epsom salts and 1 cup of Baking soda then select one of these three recipes according to your needs. Add about 10 drops of oil collectively to each soak.
For Aching feet:
4x drops of chamomile
4x drops of lavender and 2x drops of peppermint.
For Foot warming:
5x drops of rosemary
3x drops of clove bud and 2x drops of ginger.
For Cooling swollen feet:
6x drops of peppermint
Ix drop of rosemary and 3x drops eucalyptus.
So, yes, wear those gold lamé sling backs with the singular sequined strap around the big toe and the lime-green fur along the insole. But also remember to take care of yourself before and after. That way when you say that your dogs are barking, you'll be talking about the one's in your backyard!
Dry brushing the skin is a great way to detox the body. It increases the circulation, stimulates the lymphatic system, improves the overall smoothness and appearance of the skin and of course, gets rid of dead cells by the bucket loads!
The skin is the largest organ of the human body. It controls the body's thermostat – keeping us cool and warm when necessary; it absorbs useful ingredients; secretes toxins; protects the internal organs and contains nerve endings that allow us to feel the world around us.
One of the most important functions of the skin, however, is sweating. The skin is responsible for excreting one pound of waste product every day. If the sweat glands can't do their job because they are blocked with dead skin, toxins can get trapped inside the body which creates cellulite, lymph buildup and general imbalance.
Sisal brushes are best used for dry brushing. Before jumping in the shower take a brush and systematically work over the body in firm circular movements. Stay in each area for a few minutes or until the skin is rosy pink. No cremes or lotions should be applied beforehand – thus the term 'dry' brushing.
Brushes can be maintained by tapping off any dry skin and storing in a dry place. Wiping occasionally with alcohol on a dry gauze is also a good idea as long as the bristles don't get wet. As you have probably realized by now – water is not part of this overall process!!
At this point, most of us have experienced a massage or two – on a cruise or as part of a spa visit – but sometimes it can be a little intimidating deciding what style of treatment to choose, what to wear and what to take off in the room.
These days it is accepted that you completely disrobe and get under the blankets naked, but wear underwear if it makes you feel more at ease. It is all about the relaxation and you need to be comfortable. Always wear loose clothing to the massage. Wriggling in and out of tight clothes spoils the whole ambiance of the treatment.
Let's do a quick recap of the most popular massages:
Swedish Massage – this is the most common type of massage. It is a good starting point for newcomers and a great stand-by for overall tension release. Long strokes knead the muscles and increase the blood circulation.
Deep Tissue Massage – is a Swedish massage with a lot more pressure.  This intensity can result in a couple of days of soreness following treatment but is really good for athletes because it gets rid of lactic acid build-up in the muscles.
Sports Massage – involves more stretching and rocking and tends to be performed at a more vigorous pace. It is also a great massage to get when treating an injury.
Thai Massage – often referred to as 'yoga for the lazy' and performed on the floor, this massage mixes acupressure, shiatsu with stretching and yogi asanas. It provides pain relief and increases flexibility. Great for serious golfers! Wearing baggy clothing for this treatment is a must. (You keep your clothes on).
Reflexology – the principle behind reflexology is that every organ has a corresonding point on the bottom or top of the feet, ankles and hands. The technician will thumb press these points to release stress, pain and tension in the body. The technique can also be used on the ears. At SkinSense we have used reflexology very sucessfully to bring relief to late stage pregnancies.
Prenatal – and talking of pregnancy, expectant mothers experience unique physical and emotional changes. Prenatal massage is specially designed to reduce swelling, soothe neck and back aches, improve muscle strength and relieve fatigue. First time mothers are advised to avoid massage during the first trimester but after that, massage is very helpful.
Hot Stone – for deeper relaxation, heated stones are placed on the body, between the toes and on the chakra points to melt away tension and allow deeper penetration of the muscles during treatment. This is a wonderful gift to give someone you care about.
Obviously all these protocols have something in common and sometimes use similar techniques. All will lift your spirits, refresh the mind and re-energise the body. Never be afraid to tell your therapists where your body hurts or where you feel the most tension and let them know if the pressure suits you as the treatment progresses. For best results, it is a good idea to mix massage types. Get treatments every two to three weeks, or weekly when treating an injury and always drink plenty of water following every massage.
In Southern California, because of our year-round sunny climate, we don't have the option of hiding our legs and arms under extra clothing and letting our body hair grow out in the Winter months. So regular waxing treatments are imperative. It is therefore essential to find expert technicians who can deliver optimum results with a minimal amount of pain.
Depilatory waxing is an age-old method of removing unwanted hair. At SkinSense we use a soft, warm resin wax for the larger areas of the body and a green, hard wax for Brazilian and some facial waxing. Both waxes are comfortable, hygienic, efficient and suitable for sensitive skins. Because hair grows in three stages, waxing has to be done more regularly for the first few visits to regulate and to some extent, weaken, the growth pattern. Here are a few important waxing tips that will make your waxing experience with us more enjoyable.
Avoid sun exposure, hot showers/baths immediately before and after treatment.
Always exercise before getting waxed.
Leave waxed areas free of perfume and fragranced body wash/soap 24 hours after treatment.
Avoid intake of caffeine and alcohol before treatment. If you have a low pain threshold, a mild painkiller without aspirin is recommended 30 minutes before treatment.
Avoid waxing just before menstrual cycle. Waxing can be more painful at this time. Many clients wax during their cycle depending on their comfort level and pain tolerance. We as technicians don't mind either way.
Clients who are severely hypoglycemic or diabetic should not wax. Any clients using Retin-A, Tazarac, Accutane or any other Tretinoin-type topicals should also avoid waxing. Always inform your technician of all the topicals you are currently using before waxing the skin and any prescribed oral medications that you might be taking.
When switching from shaving, allow the hair to grow 2-3 weeks before your first wax. This allows for the right amount of growth for a successful result. Have your technician advise you about aftercare protocols and at-home products to avoid ingrown hairs, especially in the bikini area.
One final word about BROW WAXING. Having well shaped and tidy brows can make all the difference to your facial appearance. This applies to both men and women. Once the initial shape is in place, monthly maintenance is all that is needed for that completely groomed look.
I can hear all of you going "Eeeeww!" But there is an important message attached to this story, and I hope you will learn from my mistakes.
Two years ago, I noticed that the nail on my left big toe seemed flaky. If you've never experienced this, it's a frequent indicator of a fungal infection. Now, not only had I just read an article about laser treatments for toe fungus, but two of my clients had recently had sessions with their podiatrists to get rid of fungus on several nails. So, off I went to the doctor's office to see, first of all, if I did actually have a fungus on or under my nail and, if so, whether the laser treatment might work for me.
After looking at my feet and particularly my left big toe, my podiatrist said "yes" to my questions: In her professional opinion, I did have a fungus, one she felt would respond well to the laser treatment because it wasn't a bad case. She said I would see results with just one session.
So I returned to her office the following week and had my first laser treatment. The technician – a registered nurse – gave me goggles to protect my eyes, then systematically covered each toe with the laser beam in a linear pattern. (Every toe has to be treated, regardless of how many are affected with fungus.) It got a little uncomfortable when the laser beam reached the nail quick, but apart from that the treatment was painless.
I then went home and threw out my socks, bath mat and slippers. I bleached the tub and changed out the towels. I also purchased a pair of electric shoe inserts that sterilize the inside of each shoe, particularly the toe box. I even bought a few pairs of new shoes—any excuse!!
Then…I waited. I wore no polish for a year, applied an antifungal treatment daily and had regular pedicures to keep the nails short.
One year later, I was back in the podiatrist's office. We both came to the same conclusion: the results had been minimal. My toenail was still flaky on one side, indicating the fungus had not cleared. The podiatrist explained that there are different kinds of fungus and some are very hard to treat. So I received a second laser treatment. I also ordered another topical treatment from a compounding pharmacy. By this time I had spent about $2,000.
Far from helping, it seemed the additional treatment only made things worse. The flakiness spread over the whole nail, which then began to lift. As you can imagine, I was very frustrated! And so, during a visit to my dermatologist a month later, I asked him if he treated toe fungus. He told me it was a large part of his business. He looked at my toes and said he would…take a culture! It was an ah-ha moment.
Two weeks later, I received the results. All the tests came back clear; I did not have fungus at all. I had simply damaged my nail – so easy to do during exercise and when wearing  glamorous shoes – and the only "treatment" needed was to cut the toenail short and leave it alone to recover. I could even wear toe polish if I chose.
So what are the lessons? First, if you suspect you have a toe fungus, a culture should be taken on your first visit to the podiatrist's or dermatologist's office. In a couple of weeks, either you and your doctor will know what type of fungus you are up against, or the test will have ruled out a fungal infection, so you can begin looking for other causes and treatments. Had this been done, I'd have been able to save a great deal of time and money.
Second, just because you've read about a treatment you think is the answer for your problem, don't ask for it first thing. It's possible that, had I not gone to my podiatrist with my mind "settled" on a laser treatment, she would have explored other, less costly treatments first. And perhaps, seeing that those treatments weren't working (on the fungal infection I didn't have), we'd have come to the right conclusion.
And third… never be afraid to seek a second opinion!