"Dear acne, the saying 'if you've got it, flaunt it' does not apply to you."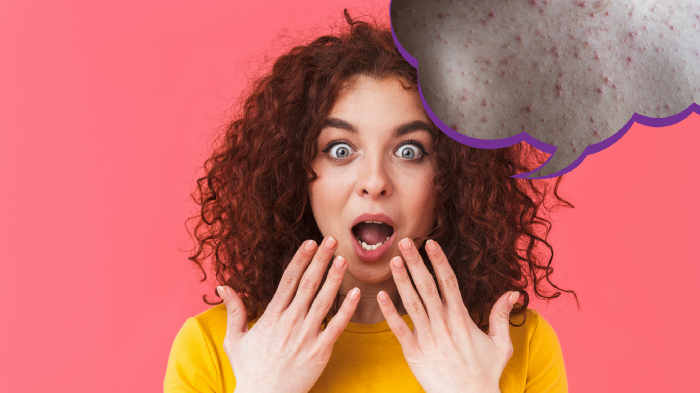 In my past blogs I've mentioned that I suffered from acne in my teens. Curiously, they were not confined only on my face but on my body too, particularly on my back. They were huge and red; it was painful… enough to warrant a visit to the dermatologist. After consistent application of medication and following the doctor's advice, it cleared up after 6 months or so.
While the face is a common site for acne, it can affect any body part that has oil-secreting glands or hair follicles, including your chest, shoulders, and your back. In fact, back acne, also referred to as bacne, affects more than half of people with acne. Bacne is the result of an accumulation of dead skin cells and oil [sebum] within the pores in the skin, combined with an overgrowth of a common skin bacteria, Cutibacterium acnes, which triggers an inflammatory response.
Bacne can be particularly stubborn to eliminate, hard to prevent, and can leave deep scars. As with acne on the face, bacne is most common in teens and young adults, in the years when the sebaceous glands are most active because of hormonal fluctuations. But it can also appear at different times according to a person's health and lifestyle.
Here are a few self-care tips to get rid of bacne, keep your back clear and acne-free, and prevent it from coming back… no pun intended.
1.Shower regularly especially after a workout.
Poor hygiene won't cause bacne, but good hygiene will help prevent it and clear blemishes. I recommend daily showers and immediately after exercise or any activity that generates perspiration.
2. Exercise safely.
Exercise increases circulation and generates heat, which causes increased production of skin oils and perspiration, perfect food for bacteria. Always change into clean clothes before and after exercising and put a clean towel on exercise machines and mats at the gym. These days most equipment is kept extra clean and sanitized so that's a bonus.
Avoid synthetic fabrics; choose cotton and light-weight, loose-fitting clothes that allow the skin to breathe and perspiration to evaporate quickly.
3. Keep fabrics clean.
Change other fabrics that frequently touch your skin. For clothing, change daily with a clean shirt or top. And change bed linens twice a week to keep sloughed-off skin cells and oil away from your back.
4. Treat gently.
Do not shower in really hot water and avoid antibacterial soaps, astringents, and abrasive scrubs that can make your acne worse.
Choose body washes that say, "noncomedogenic" or "oil-free" on the package to avoid clogging your pores. Tea tree body wash and lotions work well.
Exfoliate gently two to three times a week using a soft sponge and a mild scrub. Change the sponge regularly as sponges can harbor bacteria.
5. Keep wet hair away.
Conditioner and hair-styling products left on the hair are a frequent cause of blemishes on the back. After shampooing and conditioning in the shower, pull long hair forward and wash the back to keep the residue of hair products off your back. And don't leave wet hair on your back after swimming.
6. Avoid Excessive Sun Exposure
Contrary to popular belief, the sun will not dry pimples or clear up acne. It simply dries the skin surface making it harder for skin cells to slough off and sebum to be excreted naturally. Sun damages cells and weakens the skin on all parts of the body making it more vulnerable to blemishes and aging.
Use a mineral based facial sunscreen on areas that tend to break out, that includes your back, chest, and shoulders. These SPF's are formulated to avoid clogging.
7. Use an over-the-counter treatment.
For mild back acne, over-the-counter acne creams and gels containing ingredients like benzoyl peroxide, resorcinol, salicylic acid, and sulfur can help get rid of blemishes and prevent new ones from popping up.
8. Watch your diet
Keep a healthy, well-balanced diet that includes lots of fruits, vegetables, and well sourced protein, and avoiding sugar and fats, helps to keep skin clearer. Drinking plenty of water and minimizing alcohol intake can also help.
9. Visit the salon
In the last month we've seen an uptick in the demand for back facials in my salon. This time of year, a series of back facials is a great idea. The whole back area from waste to neck is treated to a full facial procedure. Clearing the back during the winter months means you will be ready for the joys of summer next year.
If self-care measures, home remedies, and salon treatments don't improve back acne, make an appointment with a dermatologist.
For more wellness tips, call us at Skinsense Wellness at (323) 653–4701, or check out our other blogs. And for skincare services, please visit us at 8448 W. Third Street, Los Angeles, CA 90048. We have re-opened our doors and are happy to welcome you all back.