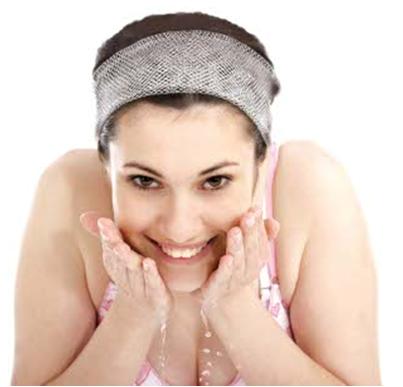 After working out, shower immediately.  Cleanse the face and apply a hydrating sunscreen before leaving the gym. Running errands straight away without doing this causes breakouts and irritation.Clients prone to back breakouts should bring a clean t-shirt to change into.
Always cleanse your skin in the morning. During the night your skin goes to work repairing itself and absorbing the treatment products you have applied before bed. And there is such a thing as indoor pollution that can be equally as unhealthy as outdoor. So a gentle cleanse in the morning gets rid of any residue and gives you a fresh start.
Never go to sleep without cleansing off the day's make-up and pollution. According to the Society of Cosmetic Chemists, every night you don't cleanse your skin, you age three days more quickly. And yes, I am trying to scare you into the bathroom!
Always exercise before a facial – working out afterwards can cause additional break-outs.
Wipe off your cell phone several times a day. It attracts dirt and make-up that can cause clogging. Have a special holder for your phone so that it stays cleaner and is easier to find.
Always wash your hands before cleansing your face.
Tools to Help:
Carry travel sizes of cleanser, toner and moisturizer/SPF in your gym bag and a clean t-shirt.
Store wipes in your bag to keep your cell phone clean. Hand sanitizers can work too.
Use ear buds whenever possible.