"In a rose, all love stories fit, and in a love story the air smells of roses" – Efrat Cybulkiewicz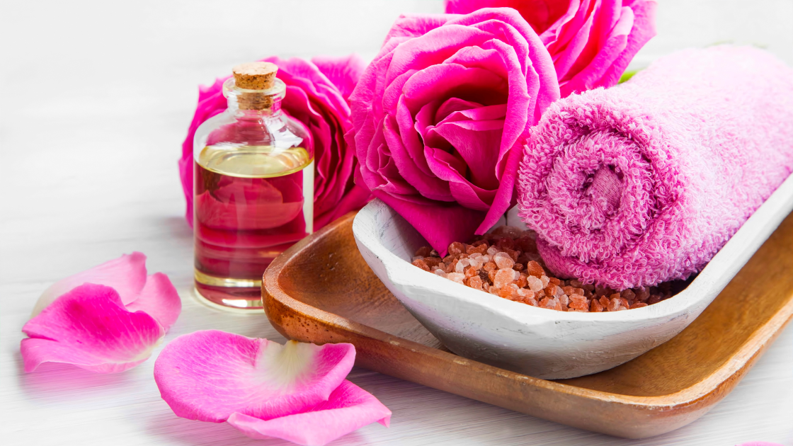 Legend has it that Cleopatra would bath in a mixture of rose water, milk and honey to keep her skin soft. She was obviously on to something because she was famous for her great beauty, and of course her power. Fast forward 2000 years, and the rose is still all the rage in skincare, beauty and wellness treatments.
Recognized for its anti-inflammatory and antioxidant properties, it's no surprise that it has become an increasingly popular ingredient in skin care products. Rose oil contains a variety of vitamins, antioxidants and minerals and is fantastic for tackling a multitude of skin issues.
There are two main types of rose that are valued in the cosmetic industry: the Damask Rose (Rosa damascena) and the Cabbage Rose (Rosa centifolia). Damask roses are the preferred variety for their sweet fragrance, their potency against bacteria and anti-aging compounds. But essential oils from both of these have distinct benefits for our skin and wellbeing.
Skin protection
Rose contains a number of powerful antioxidants that fight free radicals. This helps to strengthen and protect skin cells from environmental damage, and regenerate skin tissue.
Skin hydration
While rose is great for all skin types, it is especially suited to treat dry and aged skin due to its extremely hydrating properties. Used on its own, or under a moisturizer in the form of an essential oil or serum, rose extract strengthens the skin barrier and seals in moisture.
Antiaging properties
Two of the antioxidants found in rose oil arevitamins A and C, both of which can help with aging skin. Apart from smoothing the appearance of fine lines and wrinkles, these vitamins help to reduce the appearance of age spots and aid with collagen production. Vitamin C also helps to protect the skin from UV exposure.
To soothe skin irritation
Rose oil is widely used for its calming benefits. It soothes redness and rosacea and any surface itchiness or irritation. Rose hip oil, in particular, contains fatty acids which are ideal for treating inflammatory conditions, including eczema and psoriasis.
Heals cuts, scars, and burns
Rose water has antiseptic and antibacterial properties which can help fight infection and heal wounds and burns faster.
Hair moisturizer
If you have dry, frizzy hair, especially in the wintertime, a few sprays of rose water can help tame your mane.
Mood enhancer
Because of its very pleasant and calming smell, rose oil can be used in a room diffuser to help boost self-esteem, confidence and mental strength as wells as diminish feelings of anxiety and depression.
Here's how to use it:
Rose essential oil is expensive and potent. A small amount goes a long way and blends well with jojoba oil, grapeseed, sweet almond and argan oil.
For your bath: Add about 5-7 drops of rose oil to a carrier oil of your choice and then add the mixture to your warm bath for a relaxing experience.
As a soak for your foot: Add 4-5 drops of rose essential oil to warm water and soak your feet in it.
For anxiety relief: Diffuse rose essential oil for calmness or you can also dab some diluted rose oil on your wrists, neck, and chest.
While rose water can be used in a number of different ways:
As a facial cleanser or toner: Just rinse your face with rose water after washing with your regular cleanser.
As a skin mist: Put rose water in a spray bottle and mist on your wrist, face, or even your pillow.
(Rose water and rose essential oil are used in aromatherapy to help relieve headaches this way.)
As a refreshing drink: Add to regular water for tastier hydration or mix in lemonade, iced tea and other drink recipes.
Suffice to say that stopping to smell the roses (along with dabbing, slathering, soaking, etc.) truly has some magical benefits.
For more skincare and wellness tips, call us at Skinsense Wellness at (323) 653–4701, or email us at skinsense@skinsensewellness.com. And for skincare services, please visit us at 8448 W. Third Street, Los Angeles, CA 90048. We will be happy to see you.