"All you need is love but a little chocolate now and then doesn't hurt."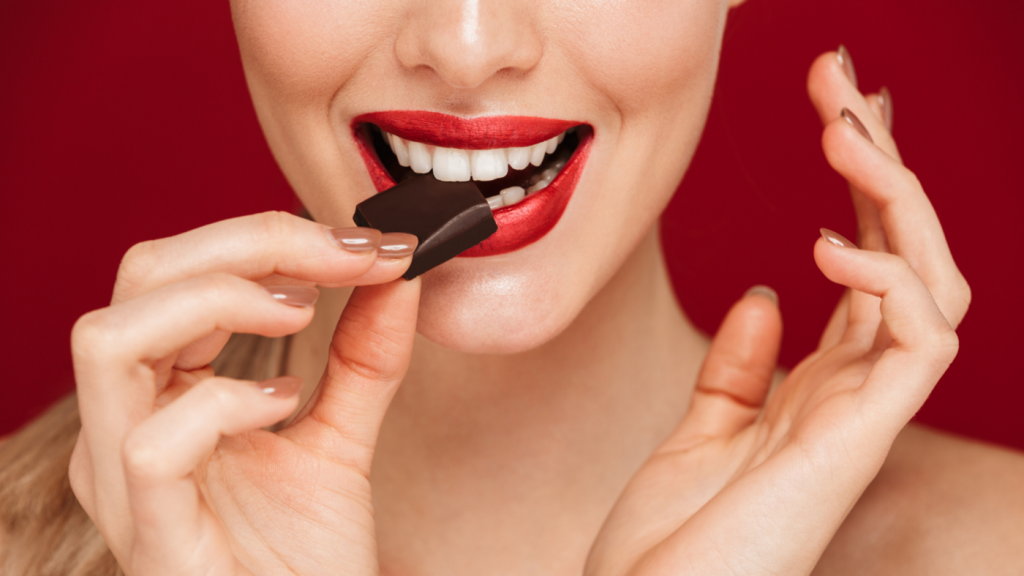 Hi, my name is Marion Simms… and I'm a chocoholic.
In America, we love any excuse to eat a lot of chocolates, Valentine's Day being one of them. Who can refuse those sweet treats in heart-shaped boxes? If your chocolate consumption concerns you, then it's worth examining what the impact of all that indulgence will have on your skin.
While it's true some women may notice a breakout a few days after eating a chocolate bar, sugar is to blame in this case, not chocolate. A diet high in fat and refined sugars, like those found in candy and chocolate, can kick sebum production into high gear and trigger inflammatory responses in the body — both of which are known to increase the risk of breakouts.
To get some clarity let's start with a couple of interesting facts. A lethal dosage of chocolate for a human being is about 22 lbs (or 40 bars of Dairy Milk). On the other hand, one Smartie or an M&M would be enough to kill a robin or a blackbird. And if you eat a chocolate bunny every day you obviously run the risk of becoming uhm… well rounded.
However, David Asprey in his Bulletproof blog, explains many benefits of chocolate. Here are a few of them…
Chocolate can improve your mood, cognitive performance and give you an energy boost.
It is good for your cardiovascular health because of the polyphenols in cacao which can increase HDL cholesterol (or good cholesterol).
And chocolate can help you maintain glowing skin by modulating healthy blood flow.
In a study, two groups of women consumed either a high flavanol (dark chocolate) or low flavanol (milk chocolate) cocoa powder for a period of 12 weeks. While the low flavanol group showed no change in markers of skin health, subjects in the high flavanol group had on average 25% reduction in UV-induced erythema (sunburn) after exposure to a solar simulator. The high flavanol group also recorded increased skin density and thickness, as well as better hydration and less transepidermal water loss — the evaporation of water through the outer layer of the skin.
Milk chocolate is definitely high in sodium and cholesterol but contains more calcium. Dark chocolate has less calcium but also much less cholesterol and sodium.
One of my favorite facials is a chocolate enzyme treatment which includes a blast of oxygen as well as an application of pure cacao powder. With the combination of the antioxidants (when you indulge!) working from the inside and the brightening, tightening benefits happening on the outside, you are guaranteed a healthy, glowing complexion.
As my dear Granny used to say: "A little of what you fancy does you good". I say enjoy a moderate indulgence of darker chocolate — anything above 65% cacao — and reap the benefits of this much-loved treat. When eaten in the right quantity it can actually be considered a health food.
"Chocolate comes from cocoa, which is a tree. That makes it a plant… so chocolate is a salad."
For more skincare tips, check out my other blogs on Medium, call us at Skinsense Wellness at (323) 653–4701 or visit our website. We offer a virtual consultation, in-salon treatments, and home service facials to our valued clients.