Tag Archives:
oxygen facials
Topically applied, AHA's ( Alpha Hydroxy Acids) can be naturally derived from fruits, plants and nuts but today are mostly synthetically produced. The most popular are Glycolic and Lactic which are especially suited for home application because they are less irritating. However spa protocols often include a combination of other AHA's such as Mandelic, Citric, Tartaric and Malic.
Used to treat wrinkles, sun damage, age spots, pigmentation and acne, AHA's gently exfoliate unnecessary dead skin cells on the surface of the skin that build up over time. This increases blood flow and allows for better product penetration.When used continuously Glycolic Acid in particular can brighten the skin and lighten pigmentation. It can also balance pH. Long term use has helped to reduce the appearance of scar tissue and can soften the appearance of fine lines and wrinkles.
For home use most AHA formulas contain 10% or less of the active ingredient. In the spa this percentage is often increased depending on the blend of AHA's being used and also on the results that are required. Of course skin sensitivity is also taken into account.
It is really essential to use a daily SPF of at least 30 when using any products that contain Alpha Hydroxy Acids because they all make the skin much more susceptible to the sun and increase the likelihood of burning.
By applying toners, serums and/or creams to skin containing these ingredients you can improve the health and appearance of your skin significantly and ensure that healthy, youthful glow that we all yearn for.
Part I
Hormones and acne:
Puberty is often associated with acne break-outs and at SkinSense we regularly counsel teenagers about skin hygiene and sensible dietary choices as we clean their skins. But many male and female clients develop acne later in life after navigating puberty and pregnancy without any problems. This can be due to excessive stress and in women it frequently signals approaching menopause, as estrogen levels drop allowing more free testosterone to take control.
Tip: Spironolactone (Aldactone) is an effective oral androgen blocker that helps to control this kind of late onset acne. (For women only.) Ask your doctor for details.
The formation of an acne lesion occurs when the skin is oily and begins to shed excessively, clogging the pores and supplying a food source for Propionibacterium (p. acnes). This creates inflammation and an immune response.
Identify the type:
Comedonal, Inflammatory and Cystic acne are the main categories used to define this condition. For the first two, a mix of topicals including salicylic, lactic and glycolic acids, with tea tree and camphor for spot treatment is very effective. Sometimes oral antibiotics are necessary to treat inflammatory acne but don't stay on these for too long and always take a good probiotic at the same time. The redness and scarring is easily treated with an over the counter or prescription retinoid. Build slowly – one or two nightly applications a week – to avoid irritation and always wear a sunscreen during the day.
With both Comedonal and inflammatory acne regular cleaning and rebalancing facials are really helpful to bring the breakouts under control. At SkinSense, we often use a Mandelic Acid peel and an enzyme treatment that incorporates Niacinamide and Pumpkin extract to get rid of scarring. Oxygen facials are also great for a deep clean, killing bacteria, calming and revitalizing the skin.
Cystic acne is a more serious type of acne with deeper inflammation and a higher risk of scarring. It needs to be tackled quickly. If after three months oral anti-biotics don't do the trick then Accutane is often recommended. Aczone is a topical medication that is non-irritating, reduces inflammation and can be used along with Accutane. Accutane does have some potential risks for certain individuals so make sure your dermatologist explains these to you and monitors you closely while you are on the medication. Gentle cleaning facials are useful in these cases to clear the skin and calm any redness.If Accutane is not a choice you would make, then there are other options and lifestyle plays an enormous role in how you can rebalance and correct acne.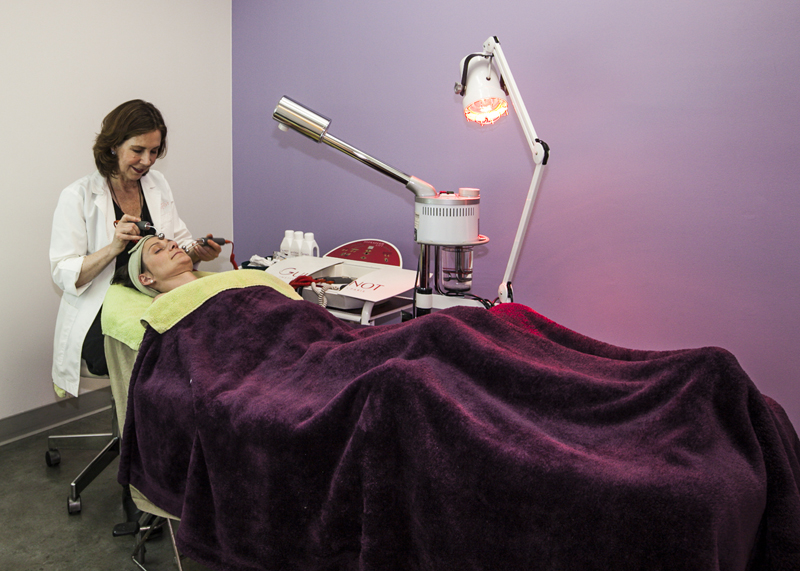 As we all know, oxygen is essential for life. It makes up about 20% of the air we breathe, depending on where we live. It is important when discussing skincare treatments to differentiate between oxygen entering the body through respiration versus the benefits of topically applied oxygen. When applied in too large amounts to the skin, oxygen can have a detrimental effect and produce free radicals.
At SkinSense, however, we use a controlled and measured delivery system that enhances penetration without forming free radicals. This solid state oxygen treatment uses no hydrogen peroxide or gas wands and all the activity is generated by enzyme action which suits a wide variety of skin conditions.
Here are the main benefits of oxygen facials:
Stimulation of cellular activity which reduces the appearance of fine lines by increasing metabolic function. Reduction of redness and bacterial activity associated with Rosacea.
Leaves the skin calm and even.
Soothes inflamed skin and acne.
Provides a calming follow-up treatment after laser, acid peels and microdermabrasion.
Increases the absorption of active ingredients applied after treatment. Improves the appearance of scarring and lightens sun damage.
Tightens the skin surface and leaves the skin glowing and refreshed.
Oxygen facials can be performed as regularly as once a week, but the results are evident after just one treatment. In other words, oxygen facials are the equivalent to a brisk mountain walk in clean, fresh air. Living in Los Angeles that provides all of us a welcome opportunity to have a continually healthy and radiant complexion.