"I found a really effective sunblock, It's called my house."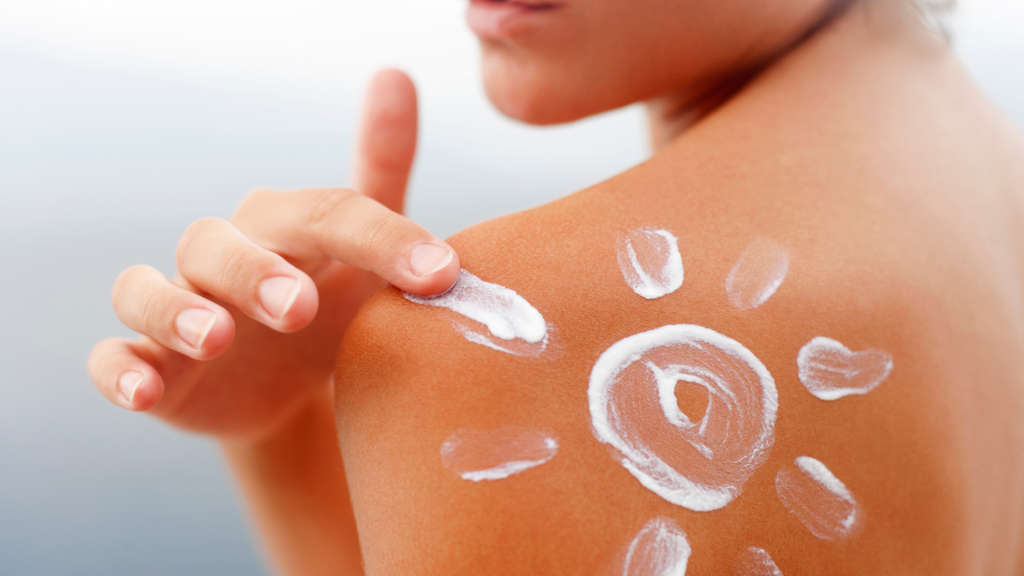 Perhaps you can call me a sunscreen bully because I constantly tell my clients to wear it daily before going out, even on a cloudy day. I slather a generous amount on my face and body every morning. It's always best to protect ourselves from the dangerous UV rays of the sun and from the risk of skin cancer. Now I hear from the news that sunscreen actually causes cancer. What's going on! And should I freak out already?
Benzene, a colorless liquid that is known to be carcinogenic has been found in some sunscreens and after-sun products by Valisure, an online pharmacy and lab, most of them spray-ons. It's important to note that benzene is not an ingredient in sunscreen, and Valisure's petition for a recall of these products suggests that the findings are a result of contamination somewhere in the manufacturing process.
Here's what changes you can make to stay safe.
With summer in full swing, sunscreen is a necessity for everyone. Beachgoers often reach for aerosols because they are easier and less messy to apply than creams so when their favorite brands are suddenly unavailable there can be a confusing scramble to find a replacement.
Furthermore, the discussion about whether anything is really safe reoccurs, and this leaves people open and vulnerable to sun damage and potential skin cancers. Being in the skincare industry as a fulltime aesthetician, I definitely think it's not an option to skip on sun protection most especially in the summer.
Pick a sunscreen that wasn't contaminated. The majority of products tested — over 200 of them — had no detectable amounts of benzene, and uncontaminated sunscreen should continue to be used.
Check and choose formulas for safety. As far as formulation goes, there are two kinds — mineral based with zinc and titanium, and chemical blends that contain actives like octinoxate and homosalate. Very often both formulas contain other anti-inflammatory and anti-oxidant ingredients like aloe, green tea, lindera root, arnica and pomegranate, a great source of vitamin C. If you have very sensitive skin or suffer from rosacea, use a mineral based formula. Avoid oxybenzone, an ingredient that may behave like estrogen. Oxybenzone penetrates the skin easily and can disrupt the hormonal system. Look for products that along with zinc oxide, contain 3 percent avobenzone or Mexoryl SX. They protect skin from harmful UVA radiation.
Avoid sprays and aerosols. They cloud the air with tiny particles that may not be safe to breathe particularly when used on children. And remember, a few blistering sunburns in childhood can double a person's lifetime chances of developing serious forms of skin cancer. Keep infants under 6 months out of direct sun and well covered and shaded at all times. Their skin is not yet protected by melanin. It is important to note that any SPF with a higher protection factor of 30 only provides 1–2% extra protection and a much higher possibility for irritation.
Apply sunscreen liberally at least 30 minutes before leaving the house and layer twice waiting 15 minutes before second application if possible. This ensures a more thorough covering. (Consider any protection contained in make-up a bonus and not a main source of protection.)
Get your skin checked annually by your dermatologist. Men ignore sun safety at their peril. In 2021, the American Cancer Society estimates about twice as many American men are expected to die from melanoma as women. Surveys show that 48 percent of men report routine sun avoidance, compared to 68 percent of women.
Slop on sunscreen and reapply it often, especially if swimming and sweating a lot. If it doesn't smell right or feel right find another by using these guidelines.
Wear a hat and sun protective clothing. And if possible, seek shade between 10 a.m. to 4 p.m.
Sunscreen is still a very important, effective, and a safe, scientifically-based way to prevent the harmful effects of the sun. Well, I guess I will be a sunscreen bully for life.
For more skincare tips, call us at Skinsense Wellness at (323) 653–4701, or check out our other blogs on Medium. And for skincare services, please visit us at 8448 W. Third Street, Los Angeles, CA 90048. We have re-opened our doors and are happy to welcome you all back.
"Always remember to take your vitamins: Vitamin A for action, Vitamin B for belief, Vitamin C for confidence."
I love my body wash. I admit, I picked it mainly for the pretty pink and gold packaging and the sweet scent. But I really like what it does for my skin — leaves it soft and moisturized after a bath and makes it firmer and younger-looking too. Checked the label… no wonder, it has Vitamin B3 among its ingredients.
What is Vitamin B3?
Vitamin B3 is a water-soluble nutrient that is a member of the Vitamin B family. The B vitamins play important roles in energy production, the synthesis and repair of DNA and RNA, and carbohydrate, protein and fat metabolism. They also help calm and maintain a healthy nervous system and can be important in the maintenance of healthy skin and muscle tone.
Vitamin B3 comes in two forms: niacin (a.k.a. nicotinic acid) and niacinamide. Both help the skin to repair and function normally, but they have different applications.
Niacin is prescribed orally to treat conditions like high cholesterol, pellagra, and sometimes diabetes and can also guard the skin against inflammation and sun damage.
Niacinamide, also called nicotinamide, on the other hand, can benefit skin health when applied topically and treat conditions ranging from acne and eczema. It can also build proteins in the skin and lock in moisture to prevent environmental damage. So niacinamide is the ingredient you are looking for in your skincare products.
Benefits of niacinamide include:
Strengthens the skin's natural barrier by stimulating the production of lipids, especially ceramides, a naturally occurring substance in human skin. This increases the skins resiliency and protects it against pollution.
Improves skin immunity by building keratin, a protein that keeps your skin firm and healthy and protects it from UV rays.
Improves the texture of the skin by reducing pore size and smoothing the skin surface.
Reduces inflammation, redness and blotchiness. Particularly helpful in calming eczema, acne and other inflammatory skin conditions.
Reduces discoloration and hyperpigmentation. Some research has found 5 percent niacinamide concentrations can be helpful in lightening dark spots and minimizing melasma.
The same concentration of niacinamide has also shown to prevent premature signs of aging, specifically lines and wrinkles produced by sun damage.
Regulates oil production in both dry and oily skin.
Controls acne and helps to heal scarring.
What's more? This powerhouse ingredient is tolerated really well by sensitive skin types and so is suitable for everybody. It is also very versatile and can be combined with many other skincare ingredients.
So, my advice… just go for it. B3 it!