Tag Archives:
skincare products
"Let me make something very clear… your skin."
Being an aesthetician for over three decades, I know that taking care of our skin is the ultimate act of self-care. But I'm also a real person with real skin issues of my own, so I know first-hand just how confusing skincare can be. From understanding why you just got hit with a major case of adult acne or keeping abreast of the latest science behind skincare, to figuring out whether the latest buzziest ingredient is the panacea to all your skin woes (as they claim to be), I'm here to help.
I love my clients to bits but here are a few of the common confusions I stumble upon in my conversations with them at the salon.
Not knowing the ingredients in their skincare products.
One thing I find myself asking on every spa visit is "what performance ingredients are you currently using?" The answer is invariably, "I don't know."
As consumers, we are inundated with hundreds of skincare products every time we go to the store. And most skincare brands will put certain phrases like hydrating, clarifying, or anti-aging on their labels to grab your attention and stand out in the sea of products. With such simple labeling, it should be easy to find a product that will address your skin concerns, right? Not exactly! Often times you may end up choosing a product that claims to produce a specific result and end up with lackluster results if any at all.
One way to combat this misinformation is to be an ingredient sleuth – be a more informed consumer to find the products that will help in achieving your skincare goals.
Influenced by skinfluencers.
Social media can be a great resource and tool. But sometimes misinformation is circulated as facts, and before-and-after images can be photoshopped. It can be hard to tell who's spreading dangerous skin care lies and who's trustworthy… the number of followers does not always mean they know what they are talking about.
While there are skinfluencers that are licensed estheticians or dermatologists, remember that your skin is as unique as you – unique genetics, environmental exposure, and sun damage. Skincare needs to be individualized to your specific skin type. Consult with a board-certified dermatologist or a licensed esthetician who can customize your skincare regimen for optimal results.
Judging a skincare product solely by its ingredients list
The ingredient list on a skincare product can be helpful, especially if you have allergies or sensitivities. They tell you what's in the product, in a roughly descending order, but not everything. Among the things it doesn't tell you is the concentration of each ingredient (unless the ingredient is active), how much of the ingredient there is, how the ingredients are formulated together, the grade of an ingredient, and where the brand sources its ingredient.
Furthermore, markers like "dermatologist-tested" or "clinically proven" are fairly prevalent but are actually meaningless as there are no industry standards for designations for terms like these.
Beyond marketing and branding, skincare products are only as good as what they are made of and how they are formulated. The quality and combinations of ingredients are therefore very important. Choosing products from a reputable skincare brand can be helpful since each component may be designed to work in conjunction with the others and you can be more assured of the product's quality.
Switching products too often
Change can be a good thing… but not when you are switching your skincare products too often. Skincare products take time to do their job. So when you have finally chosen the product for your skin stick with it for at least 3-4 months.
The skin's outer layer, the epidermis, takes 4 weeks to completely renew. Once your skin goes through this cycle 3-4 times then you'll have given your skin enough time to start making the real long-term changes and the results more visible.
Oily skin does not equal hydrated skin
It is important to note that although the words "dry" and "dehydrated" are often used interchangeably, the two indicate very different underlying issues when it comes to your skin. While dry skin lacks sebum (something oily complexions have in abundance), dehydrated skin lacks water. If you skip out on regular moisturizing, it can do more harm than good.
It's important to find a moisturizer that does not add oil to the skin but is hydrating. Look for products that are lightweight and contain water-loving ingredients like linoleic and hyaluronic acid.
Finally, here are a few pieces of advice I repeatedly tell my clients.
The order of things. You should apply your products starting with the lightest product to applying the heaviest product. Apply cleanser first followed by toner, serum, and moisturizer. During the day, sunscreen and makeup come next.
Layering is great but don't overdo it. Your skin doesn't need six products in the morning and six in the evening. The skin can only absorb so much at one time. Using fewer products ensures better absorption and effectiveness of the ingredients you're putting on your skin.
And finally, DON'T PICK!! Doing so could crack, damage, or wound the skin and cause hyperpigmentation. If you feel the need to pick, see a skincare professional.
For more beauty and skincare tips, call us at Skinsense Wellness (323) 653–4701 or email us at skinsense@skinsensewellness.com. And for skincare services, please visit us at 8448 W. Third Street, Los Angeles, CA 90048. We will be happy to see you.
"You can't help getting older. But you don't have to get old." – George Burns
50 is the new 40… I've heard it too many times before, if only it were true… well, maybe it is for the very few who are genetically blessed with eternally youthful-looking skin. For the rest of us mere mortals, we just have to keep trying these anti-aging products and skin-glowing treatments on the market to see which among the latest ingredients or technology delivers real results.
Among the latest treatments I came across, the claims about the Light Emitting Diode (LED)therapy certainly sounded appealing to me. They're touted to treat everything from wrinkles, redness, and signs of aging to acne, scarring, and dark spots. Besides, it is popular among celebrities and social media influencers, posting selfies with their LED masks. So, let's take a look at some of the details that will shed light on this skin treatment innovation.
Initially, LED therapy was used exclusively for the needs of science. The application of lamps was intended to grow plants in space shuttle missions. But then it was discovered that a certain wavelength promotes better tissue regeneration and can be useful in healing wounds. Overtime, LED therapy has spread to cosmetology and is now actively used to treat skin diseases and fight wrinkles.
The lights are generally classified into three wavelengths: ultraviolet, visible, and infrared. And according to how many LEDs and wavelengths in the device being used, you can treat pigmentation, aging, and acne skin. Here's a rundown of the different LED light therapy benefits:
Blue Light Therapy
Blue light therapy has a shorter wavelength and can be very effective when applied topically to kill the acne-causing bacteria known as Propionibacterium acnes or P acnes. These bacteria found in the sebum and oil glands cause inflammation and breakouts on the skin surface. The good news is that P acne is sensitive to blue light and can be eliminated with this kind of therapy. Coupled with proper cleansing and treatment regimens, it offers a safe alternative to antibiotics and harsh topicals.
In addition, blue and red light treatments can be combined to treat acne conditions – heal the skin, diminish scarring, and reduce inflammation. The treatment is great for occasional breakouts too. It takes just a few minutes to get great results when used at home.
Red Light Therapy
Red light belongs to the higher wavelength component of the visible light spectrum. Red light therapy, or RLT, exposes you to low levels of red or near-infrared light for treating certain conditions, such as skin and muscle issues. It can speed wound healing, reduce scarring, stimulate collagen production, promote firmness, and improve skin texture.
Red light therapy can also be used to relieve chronic pain and some sports injuries. In fact, there are now red LED light beds that athletes and some medical professionals use for this purpose.
RLT, known by several names: photobiomodulation (PBM), low-level laser therapy (LLLT), biostimulation, and soft laser therapy, is a popular therapeutic option. It is provided at various facial clinics, wellness centers, spas, and athletic centers. RLT devices for home use are also widely available. The safest way, however, to get this therapy is through a qualified practitioner or aesthetician.
Results from using red light therapy take longer but are noticeable after 4–6 weeks of regular application.
Green Light Therapy
Green light therapy helps to lighten hyperpigmentation spots for a brighter complexion and the soothing effect has anti-inflammatory properties. It is used to treat dilated capillaries, loose skin around the eyes, under-eye circles, hyperpigmentation, and sunspots, especially on the hands.
Because green light waves penetrate more deeply than blue light, it is recommended that the application of green light to the face be done in a salon.
—–
Light therapy is painless, non-invasive, and requires no recovery time. Red, blue, and greenlights can be used on all skin conditions and ages with no side effects. However, I would highly recommend seeking the help of a skincare professional for a series of treatments in the salon and adding a hand-held or even a full-face unit to your skincare routine at home.
At our salon, we have been using the handheld units during our facial treatments to great effect and have also been retailing them to many clients for home use.
For more beauty and skincare tips, call us at Skinsense Wellness (323) 653–4701 or email us at skinsense@skinsensewellness.com. And for skincare services, please visit us at 8448 W. Third Street, Los Angeles, CA 90048. We will be happy to see you.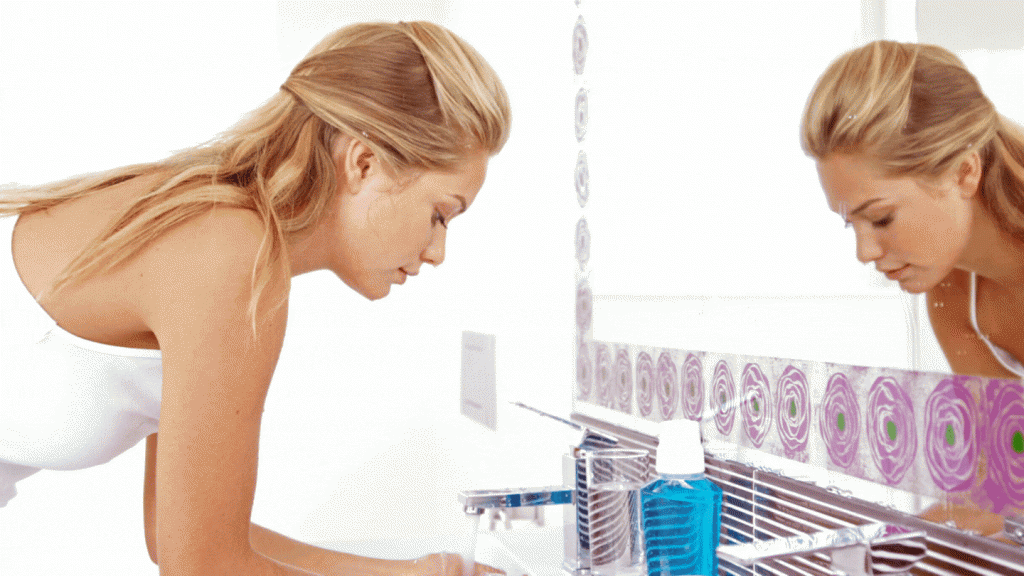 "Skin-vestment – the act of putting time, effort, and money into your skin to keep it healthy and glowing."
Dear Marion… how much time should I spend daily on my skincare routine for it to be thorough and effective? Sincerely, Mrs. trying-hard-not-to-be high maintenance.
In my previous blog, I shared a few beauty shortcuts for when you find yourself in a time crunch. But if you really want to see brilliant results from your skin products and regimen, it's always best to put in a sufficient amount of time every day on your skincare routine – both daytime and nighttime.
It may sound like high maintenance but, in reality, each step is necessary to achieve healthy, youthful-looking skin. So even with a busy schedule – juggling kids, a partner, and work – it is important to carve out that essential "me time" to take care of your skin.
Here is a basic plan that works out evenly for both the a.m. and p.m. skincare regimen.
MORNING ROUTINE – geared towards protection from the elements.
Step 1: Cleansing
Massage the cleanser into your skin for at least 30 seconds to a minute, making sure to get into all the nooks and crannies. You can rinse your face immediately, unless your cleanser contains active ingredients such as AHAs, or alpha hydroxy acids, then follow the product instructions.
Adding a silicone brush to cleansing 2-3 times a week ensures your pores stay unclogged and your skin super clean.
Wait for the skin to feel completely dry before moving on to step two. But, if you are using a toner containing hyaluronic acid, apply it immediately after cleansing while your skin is still damp. This seals in an extra layer of hydration.
Step 2: Toning
Yes – toners are important! They restore the pH of the skin, get rid of impurities and excess oils, shrink the pores, and prepare the skin to better absorb other products, such as serums and moisturizers. Some toners are also a humectant, which means that they can bind moisture to the skin.
It is most effective when applied with damp cotton, rather than sprayed on, and usually takes around 20 seconds to apply.
Step 3: Serum
Serums are lighter skin care formulations than moisturizers. Because they have thinner viscosity they are absorbed more easily and feel light on the skin.
This step should take around 30 seconds or the time it takes to smooth the product over the whole face.
Step 4: Eye Cream
The skin around your eyes is thinner, very delicate, and the first to show signs of aging. So apply creams specific to the eye area to avoid damage or irritation. If you are extremely sensitive or wear contact lenses, gel formulas may be more suitable.
It should take around 30 seconds to apply a specific eye product.
Step 5: Spot Treatment
Treat the areas with acne, blemishes, dark spots, age spots, or uneven skin tone one by one to help to reduce redness or discoloration and speed up your skin's natural healing process.
The time this step will take depends on how many blemishes you have, but approximately it should be around 20 seconds for the application. Let the treatment dry before moving on to the next step, which could take at least one minute. Otherwise, the treatment will end up migrating to other parts of your face.
Step 6: Moisturizer
Apply the moisturizer to the face, neck, and chest.
The cream must absorb completely before moving to the next step, so wait about two minutes, or at least until the skin doesn't feel sticky to the touch.
Step 7: Sun Cream
This is the step that should take the longest in a skincare routine. If applying it to the whole body, spend at least two minutes thoroughly applying it, and be generous. If it's just the face and neck, a minute or two should be enough.
Then wait about 10 minutes before applying makeup. Applying makeup too soon can disrupt the sunscreen and reduce coverage and efficacy.
Total time for daytime routine: 20-30 minutes, before applying makeup.
NIGHTTIME ROUTINE – geared toward repair and rebuilding.
Repeat steps 1 through 5 from your morning routine.
Step 6: Treatment
Apply serums that contain any of the plethoras of active ingredients currently available – ATP, stem cells, peptides, minerals, antioxidants. This is a sure way to support the skin while you sleep. Choose a few of the ingredients to alternate every night and follow instructions by the manufacturer or as advised by your aesthetician, to avoid any reactions and get the best results.
Allow five minutes before the next step.
Step 7: Night Cream
Apply the cream over the face and neck, which should take around one to two minutes.
If you want to use a facial roller or gua sha tool, this is the moment to do it. Then wait at least 10 minutes before going to bed, so all the products that have been applied don't end up on the pillow.
Total time for nighttime routine: 20-25 minutes.
"Invest in your skin. It is going to represent you for a very long time." – Linden Tyler
For more beauty and skincare tips, call us at Skinsense Wellness (323) 653–4701 or email us at skinsense@skinsensewellness.com. And for skincare services, please visit us at 8448 W. Third Street, Los Angeles, CA 90048. We will be happy to see you. 
First God created man, then he had a better idea…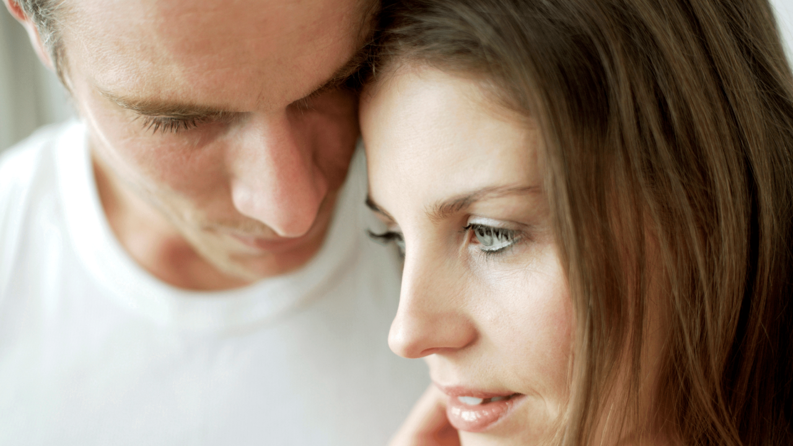 What's the difference between men and women… besides our genitals, of course? It's pretty interesting how, biologically speaking, we all start out as women. So, you're a little embryo – a little fetus, and around 5 – 6 weeks if you have a Y chromosome it develops, and you start making testosterone and sexually differentiate.
However, the differences between male and female skin only emerge from puberty and onwards. These variations determine the type of skincare routine and products one should use, so let's compare…
Skin Thickness
Dermatologists have found that the male dermis is about 20% thicker than a woman's and that is why men tend to have fewer superficial fine lines than women. But they are more prone to the deep wrinkles that are caused by repeated facial expressions. Frown and smile lines for example.
Collagen and elastin production
Both men and women have specific hormones which help promote collagen and elastin production. Testosterone in men and estrogen in women. Collagen and elastin are proteins that act as the main building blocks in the skin, keeping it tight and firm.
As we age the level of both proteins diminishes. While this process happens to both men and women, they taper off at different rates. Men lose collagen and elastin at a constant rate throughout their adulthood, but gradually. Women start losing both less quickly until they hit menopause, and then the loss happens very rapidly and results in thinning, saggy skin, and wrinkles.
Oil levels and pore issues
Sebum, the skin's natural oil, helps hydrate the skin and mixes with fat molecules to form a protective coating on the skin, defending it from harmful pathogens and bacteria.
But too much of a good thing can become a problem. Men have more oil glands or sebaceous glands than women. In fact, it has been estimated that men produce twice as much sebum than women overall. They also have larger and a higher number of pores. This combination can result in clogging and lead to acne.
Shaving doesn't help either. It exacerbates the skin surface and can cause irritation, ingrown hairs, and even more breakouts – particularly if the beard growth is heavy and curly.
Impact of lifestyle choices on skin
Although genes play a role in how we age as a whole, our lifestyle choices can also have a powerful effect. Unfortunately, men often engage in behaviors that can speed up skin aging.
Exposure to UV rays is a primary cause of premature wrinkles in both men and women. However, men are more likely to work outdoors than women and spend long periods of time in the sun without protection – sunscreen and hats for example.
Bad habits like smoking, not getting enough sleep or exercise, and poor diet can factor in too.
Finally, men generally lack the same skin care knowledge that women are taught from an early age. This gives them a significant disadvantage in preventing wrinkles and in recognizing the signs of aging.
Skincare Advice for Men
To keep your skin in the best possible condition, cleanse every morning and evening with a non-irritating product suitable for your skin type. Keep your skin moisturized and if it is oily choose a non-greasy face lotion which will keep your face feeling hydrated all day without causing blocked pores.
If you have a beard covering part of your face, it's especially important to keep the skin underneath it properly hydrated. Dryness under the beard can be uncomfortable, resulting in itchy, flaky skin, and even beard dandruff.
Skincare Advice for Women
Every good skincare routine starts with washing your face using a cleanser that offers gentle exfoliation and anti-aging benefits — think AHA acids, plant-derived enzymes, or even fermented ingredients. Then use an antioxidant serum containing a cocktail of vitamins — most popular are vitamin C, vitamin E, ferulic acid, resveratrol, and niacinamide —to guard against free radical development that causes degradation of precious collagen.
For moisturizers, look for a formula that contains hydrating ingredients like ceramides, hyaluronic acid, squalene, and glycerin. These formulas will replenish skin and lock in hydration for the day.
A good eye cream that depuffs and hydrates the eye area, and a collagen-boosting product like a peptide cream or growth factor serum are also great additions to a morning skincare routine.
Lastly, for both men and women, apply sunscreen. A mineral SPF of at least 30 with zinc oxide and antioxidants to support protection against environmental pollution.
For more skincare and wellness tips, call us at Skinsense Wellness at (323) 653–4701, or email us at skinsense@skinsensewellness.com. And for skincare services, please visit us at 8448 W. Third Street, Los Angeles, CA 90048. We will be happy to see you.
"In a rose, all love stories fit, and in a love story the air smells of roses" – Efrat Cybulkiewicz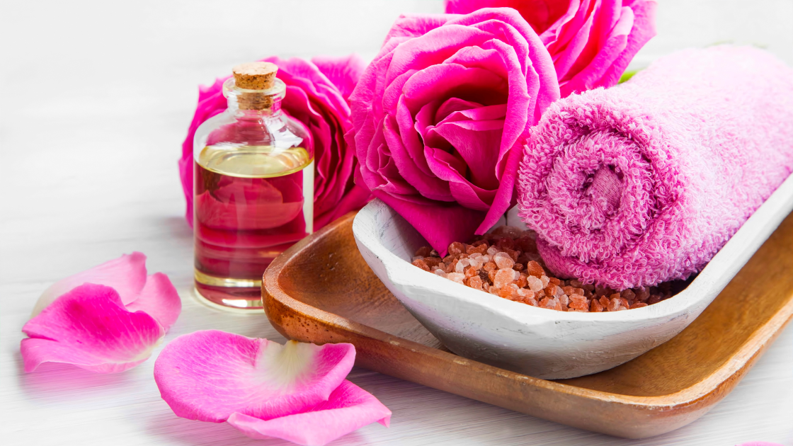 Legend has it that Cleopatra would bath in a mixture of rose water, milk and honey to keep her skin soft. She was obviously on to something because she was famous for her great beauty, and of course her power. Fast forward 2000 years, and the rose is still all the rage in skincare, beauty and wellness treatments.
Recognized for its anti-inflammatory and antioxidant properties, it's no surprise that it has become an increasingly popular ingredient in skin care products. Rose oil contains a variety of vitamins, antioxidants and minerals and is fantastic for tackling a multitude of skin issues.
There are two main types of rose that are valued in the cosmetic industry: the Damask Rose (Rosa damascena) and the Cabbage Rose (Rosa centifolia). Damask roses are the preferred variety for their sweet fragrance, their potency against bacteria and anti-aging compounds. But essential oils from both of these have distinct benefits for our skin and wellbeing.
Skin protection
Rose contains a number of powerful antioxidants that fight free radicals. This helps to strengthen and protect skin cells from environmental damage, and regenerate skin tissue.
Skin hydration
While rose is great for all skin types, it is especially suited to treat dry and aged skin due to its extremely hydrating properties. Used on its own, or under a moisturizer in the form of an essential oil or serum, rose extract strengthens the skin barrier and seals in moisture.
Antiaging properties
Two of the antioxidants found in rose oil arevitamins A and C, both of which can help with aging skin. Apart from smoothing the appearance of fine lines and wrinkles, these vitamins help to reduce the appearance of age spots and aid with collagen production. Vitamin C also helps to protect the skin from UV exposure.
To soothe skin irritation
Rose oil is widely used for its calming benefits. It soothes redness and rosacea and any surface itchiness or irritation. Rose hip oil, in particular, contains fatty acids which are ideal for treating inflammatory conditions, including eczema and psoriasis.
Heals cuts, scars, and burns
Rose water has antiseptic and antibacterial properties which can help fight infection and heal wounds and burns faster.
Hair moisturizer
If you have dry, frizzy hair, especially in the wintertime, a few sprays of rose water can help tame your mane.
Mood enhancer
Because of its very pleasant and calming smell, rose oil can be used in a room diffuser to help boost self-esteem, confidence and mental strength as wells as diminish feelings of anxiety and depression.
Here's how to use it:
Rose essential oil is expensive and potent. A small amount goes a long way and blends well with jojoba oil, grapeseed, sweet almond and argan oil.
For your bath: Add about 5-7 drops of rose oil to a carrier oil of your choice and then add the mixture to your warm bath for a relaxing experience.
As a soak for your foot: Add 4-5 drops of rose essential oil to warm water and soak your feet in it.
For anxiety relief: Diffuse rose essential oil for calmness or you can also dab some diluted rose oil on your wrists, neck, and chest.
While rose water can be used in a number of different ways:
As a facial cleanser or toner: Just rinse your face with rose water after washing with your regular cleanser.
As a skin mist: Put rose water in a spray bottle and mist on your wrist, face, or even your pillow.
(Rose water and rose essential oil are used in aromatherapy to help relieve headaches this way.)
As a refreshing drink: Add to regular water for tastier hydration or mix in lemonade, iced tea and other drink recipes.
Suffice to say that stopping to smell the roses (along with dabbing, slathering, soaking, etc.) truly has some magical benefits.
For more skincare and wellness tips, call us at Skinsense Wellness at (323) 653–4701, or email us at skinsense@skinsensewellness.com. And for skincare services, please visit us at 8448 W. Third Street, Los Angeles, CA 90048. We will be happy to see you.
"I got to get my life together. This crazy heat made me realize I can't go to hell."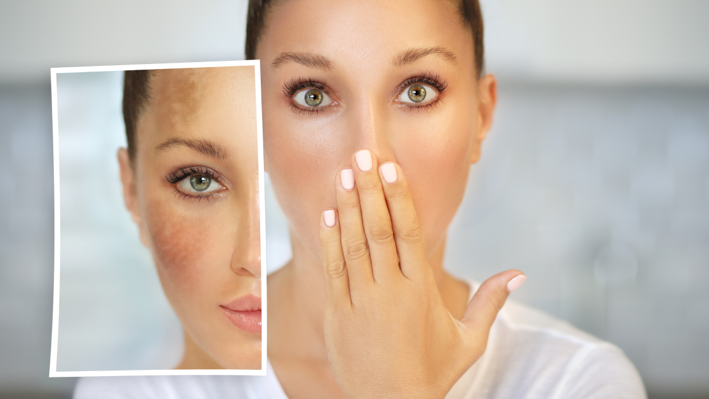 I am very fair skinned… I mean really fair skinned. I can get sunburned wearing high SPF lotion. Yesterday, I was in the sun for five minutes loading groceries into my car. My cheeks are still reddish and warm. Suffice to say, I'm ultra-sensitive to sun and heat.
Well… the heat is on again. As a matter of fact, a brutal heat wave is scorching parts of India and Pakistan now causing health concerns, among others. Of course, climate change and global warming are to blame for the alarmingly high temperatures.
Global warming alone causes free radical damage to the skin unimaginable in the past when life was generally cooler, globally. The result on the skin is pigmentation, brown patches, and accelerated aging.
But along with global warming, we also unknowingly expose our poor skin to other heat sources causing further damage.
Certain types of exercise like hot spinning and hot yoga maybe good for the body and mind, but not always for the skin. People who do hot yoga more than five times a week are getting more discoloration and persistent redness. And wearing sunscreen apparently doesn't seem to help.
Working in a kitchen or bakery can have the same effects too.
According to a study from Seoul National University College of Medicine, just 30 minutes of heat exposure three times a week for six straight weeks is enough to change your skin. It causes protective antioxidant levels in the skin to drop and genes to create MMP or Matrix Metalloproeinases. These are proteins that break down collagen and elastin, causing wrinkles.
Heat also triggers melanocytes, the pigment-producing cells within our skin. MMP's and melanocytes both have positive roles to play in protecting the skin from damage and keeping it healthy, but when over stimulated by heat, they can be very damaging. And heat, when experienced regularly, can penetrate as deeply as the sun's rays.
What's more? If you're Asian, African American, or Latina, susceptibility to hyperpigmentation is genetic. Excessive heat just adds fuel to that fire.
But enough of the bad news already… now that you know how bad heat can be for the skin, you can always reduce your exposure – less of that hot spin and hot yoga classes.
If, however, getting exposed to heat cannot be avoided, here's a few things you can do to protect your skin:
Use mineral-based sunscreens and foundations that contain physical blocks like zinc oxide. They are great at fighting sun damage and heat.
Mineral sprays used throughout the day can also keep the skin cool. Just remember to reapply sunscreen.
Refrigerate your skin treatment products like masks and moisturizing gels and use them immediately after a cool shower and exposure to heat.
Use daily moisturizers and serums that contain copper, magnesium, selenium, radish root and niacinamide. And of course, those powerful antioxidants – C and E.
Finally, don't forget to wear a good strong deodorant. The last thing you want to be worrying about is odor from the heat sweats.
For more skincare tips, visit our website, call us at Skinsense Wellness at (323) 653–4701, or email us at skinsense@skinsensewellness.com. And for skincare services, please visit us at 8448 W. Third Street, Los Angeles, CA 90048. We will be happy to see you.
"Shoutout to all the skincare products I haven't bought yet… I'm coming for you."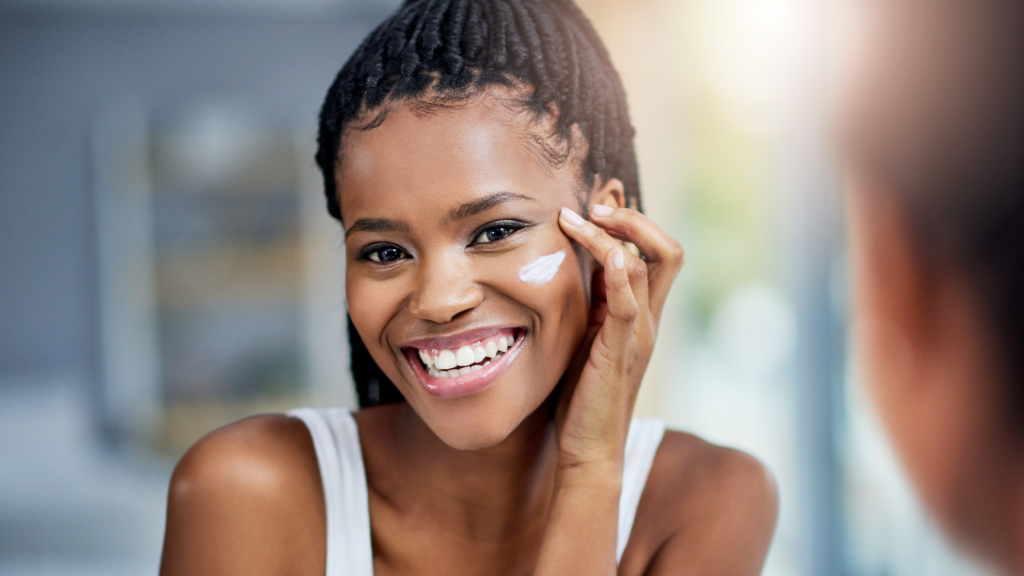 There's something I relish about turning the calendar to January and thinking about what's to come in the upcoming 12 months. Perhaps I'm still on a honeymoon period with the new year but there's so much to look forward to in skincare, especially with products and approaches that can be done at home, that I can't help gushing about them.
Here's a few interesting new innovations that you may want to check out.
Skincare Microdosing
As its name implies, microdosing refers to using lower concentrations of active ingredients. The approach allows the skin to adapt to the benefits of the active ingredients like retinoids, AHAs, BHAs, PHAs and Vitamin C and reduce the chance of any reaction or sensitivity. When using lower concentrations over a longer period of time the skin's barrier is kept intact and allows for a much better outcome.
This can be especially beneficial for those with sensitive skin.
Fermented Beauty
Fermentation is the process where a microbe, bacteria, or yeast is introduced to an ingredient. The procedure changes the chemical structure of the ingredient by breaking it down into the basic building blocks, which includes vitamins, essential minerals, and amino acids in their purest form. And because the molecules have been broken down, the result is smaller, more concentrated molecules that are more easily absorbed by the skin. Fermentation can also produce fruit and sugar acids which exfoliate the skin for a healthy glow.
But what's more exciting about fermented products is their ability to help balance the skin's microbiome — a mixture of friendly bacteria that keep the skin healthy and protected. With a balanced skin microbiome your skin is able to calm inflammation, help clear acne, eczema, and rosacea.
Blue Light protection
Blue light from the sun and all our digital devices can lead to oxidative damage in the skin which accelerates collagen breakdown and can cause fine lines and wrinkles. In addition, inflammatory hyperpigmentation of the skin is also exacerbated.
Sunscreens, filters, and using antioxidants like niacinamide and Vitamin C can help protect the skin. Besides blocking the light, blue light protection skincare also fights off free radicals formed by blue light before they can wreak havoc on your skin. Key ingredients to look for are zinc oxide, titanium dioxide, iron oxide, and antioxidants. Even products with green tea polyphenols, Coenzyme Q, resorcinol, and vitamin E would work well.
As for salon treatments to boost and keep the skin in tip top shape, nothing beats the power of the human touch. A great massage helps to stimulate circulation, reduce puffiness, and improve muscle tone. Every facial should have at least 15 minutes of massage whether it is a combination of hands, rollers, Gua sha, or lymphatic drainage. When added to a microcurrent facial, an enzyme or oxygen treatment or an AHA protocol to peel and lighten, massage makes all the difference to the efficacy of any facial treatment.
Besides, having a professional choose and apply the concentration of the more active ingredients is a much safer way to get results without any irritation.
For more skincare tips, visit our website, call us at Skinsense Wellness at (323) 653–4701, or check out my other blogs on Medium. And for skincare services, please visit us at 8448 W. Third Street, Los Angeles, CA 90048. We will be happy to see you.
"I remember smell better than my multiplication tables."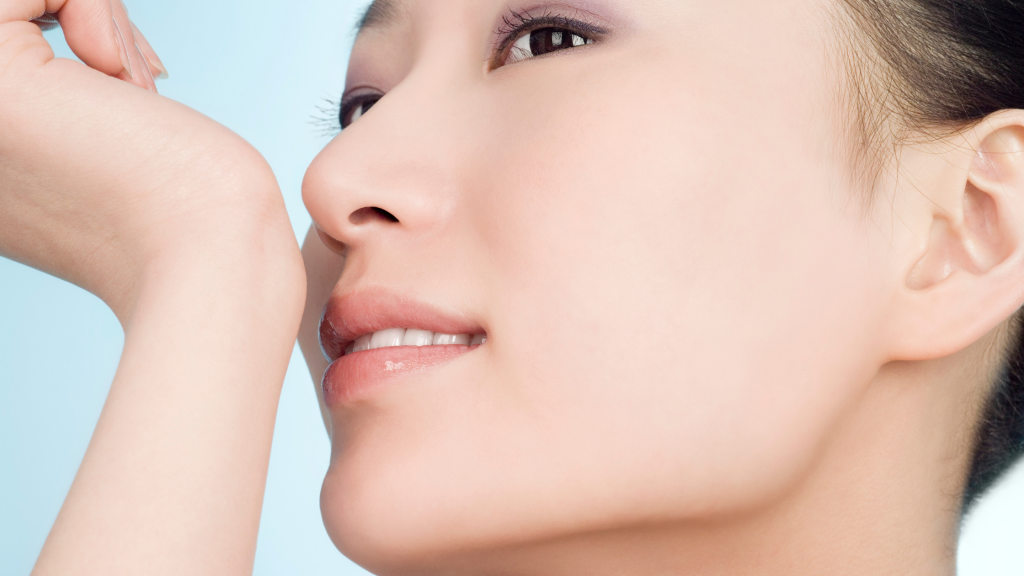 Last year when I was doing home service facials for my clients, one of the homes I went to had the smell of fresh oven-baked chocolate chip cookies as I walked in. As soon as the scent of chocolate combined with brown sugar and dough hit my nose, I was transported back to my childhood in my grandma's house and can't help but reminisce on those good old happy times. For some reason scents have a way of magically bringing back a memory.
Working with beautiful aromas and scents is one of the perks of being an aesthetician and salon owner that I enjoy so much — from the essential oils that freshen the space to the skincare products that I use for my facial treatments. All in all, it makes for a totally relaxing atmosphere. My clients love it and can't help but comment on the pleasant smell as they enter the salon or as I slather their skin with the mildly scented skincare products. It certainly is a key element in the whole self-care experience.
However, fragrance has garnered a bad reputation recently. According to the American Academy of Dermatology, fragrances are considered one of the leading causes of allergic reactions on the skin. Let's get to the heart of the matter.
What is fragrance in skin care products?
It's any ingredient or combination of ingredients added to a product to make it smell a certain way. It could be to cover up an unpleasant or chemical-like smell, or it might simply be there to add a pleasant aroma to an odorless substance.
From moisturizers to serums to sun care, fragrance is added to all kinds of skin care products to make them more pleasurable to apply and bring an element of luxury to your skincare regimen.
Now to find out what's best for our skin, let's take a look at different types of formulations.
Natural — are usually created with a mixture of natural-origin ingredients and essential oils.
Synthetic- are made up of artificially derived chemicals and are of particular concern among those with sensitive skin because of their potential to cause irritation.
Fragrance-free — are products that do not have added chemicals that enhance aroma or mask an odor.
Unscented — are products that has no scent. Often so-called masking fragrances are used to cover up unwanted smells from other ingredients that may not have a pleasing odor.
Organic, natural, and green — are botanical extracts and essential oils that may be manufactured or naturally occurring.
Fragrances today aren't generally harmful, but some people with sensitive skin might like to avoid them. No matter the source, some fragrances may contain allergens. So, both natural and synthetic fragrances may cause irritation to very sensitive skin types. If you have a skin condition, such as dermatitis or eczema, or very reactive and allergy-prone skin, it would be best to use fragrance-free products.
However, only one percent of the general population suffers from fragrance allergies. If you have a more resilient skin type, you may not experience any irritation at all and, in fact, may benefit from the therapeutic element that fragrance brings to a product — whether natural or synthetic. It is usually a safe addition to skin care products and may evoke positive emotions and happy memories as well as bring a more luxurious feel to your routine.
For more skincare tips, call us at Skinsense Wellness at (323) 653–4701, or check out our other blogs on Medium. And for skincare services, please visit us at 8448 W. Third Street, Los Angeles, CA 90048. We have re-opened our doors and are happy to welcome you all back.
"Chemistry… if you're not part of the solution, you're part of the precipitate."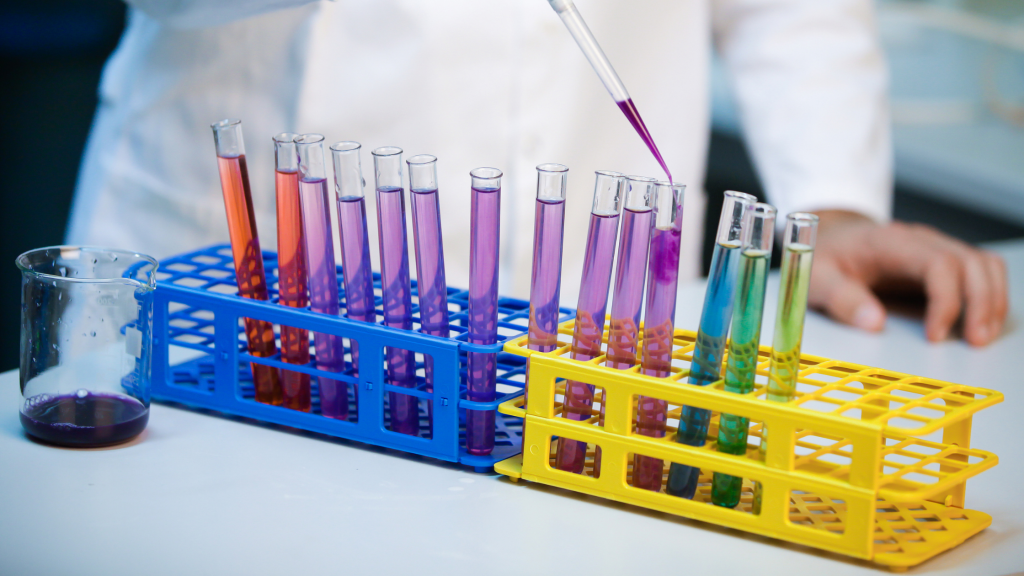 My 7th grade chemistry teacher was the first to introduce me to the pH scale by using litmus paper. We could establish the pH value of any liquid by dipping the paper into the liquids and then watching to see what color the paper turned. For example, it would show red for vinegar (acid) and blue for milk (alkaline.) Purple represented a neutral pH. It was fun!
So, what exactly is pH?
The term "pH" refers to "potential of hydrogen". It concerns the activity of hydrogen ions (ions are molecules that carry a positive or negative charge) in a water-based solution. Hydrogen makes up two thirds of water, water being two hydrogen molecules plus an oxygen molecule, H²o.
The pH of a solution is indicated by a numeric scale that runs from 0–14. Anything below 7 (which is pH neutral) is considered acidic, while anything with a pH greater than 7 is considered alkaline, also referred to as basic.
How does pH relate to our bodies?
In our bodies, blood or cytoplasm are the "solutions" in which the required ions are floating. The normal pH of human blood is 7.35–7.45. Anything above or below that could have negative effects on our health.
With the growing interest in the microbiome in recent years and the ecosystem of our body, the principle of pH balancing is again brought to the forefront. This holistic approach believes that the foundation of healthy digestion is built on a simple eating system that maintains an ideal acid/alkaline (pH) balance in the body. Seventy per cent of the immune system is based in the abdomen and 90% of the tryptophan needed to make serotonin for the brain — essential to ensure we feel good — is made here.
As far as food intake goes, the suggested pH ratio would be a diet of two-thirds alkaline and one-third acid-forming foods. So, to take a step in the right direction, let's outline a few alkaline foods that we can incorporate in greater quantities and some acidic foods we can eliminate.
Raw, green leafy vegetables like chard, kale and spinach are all excellent alkaline-rich foods. So are avocados, celery, cucumbers, tomatoes, peppers, broccoli, coconut, cherries, grapefruit, lemons and watermelon. A healthy way to start and end each day with an alkaline system for example, would be with a cup of warm water flavored with half a lemon.
Things to avoid would be white flour, coffee, red meat, too much alcohol, simple carbohydrates and artificial sugar.
How does pH affect our skin?
Our skin's surface and uppermost layers are naturally acidic, making it compatible with acidic skin care products. The skin's average pH is 4.7 and although the pH of our skin increases with age, it remains acidic.
Our skin has a protective film on its surface that's known as the acid mantle. It plays a vital role by working with skin-natural ingredients like ceramides, cholesterol, enzymes, sweat, and even our skin's own oil to protect skin's surface and lower layers from external threats.
The skin's acidic pH also plays a role in keeping its delicate microbiome balanced. An acidic microbiome makes it more difficult for harmful pathogens to multiply but lets the good stuff flourish. Frequently disturbing skin's pH to a strong degree can lead to or worsen many problems, including common skin disorders (eczema, acne, rosacea, and wrinkles) and that dry, tight feeling from washing with bar or liquid soaps (most soaps are alkaline). Using highly acidic (pH 2.5 or lower) or alkaline (pH 8 or greater) products causes a significant disruption in skin's pH too.
To avoid problems, look for pH-balanced skin care products (between pH 4 and pH 7). How do we do that when skincare products in the US don't show the product's pH? An easy solution would be to get a pH test kit available online for home use.
So, getting healthy glowing skin is really easy. All it takes is a few simple and inexpensive tweaks to your beauty routine and your diet.

For more skincare tips, call us at Skinsense Wellness at (323) 653–4701, or check out our other blogs on Medium. And for skincare services, please visit us at 8448 W. Third Street, Los Angeles, CA 90048. We have re-opened our doors and are happy to welcome you all back.

"Summer is over. Time to officially remember what day of the week it is."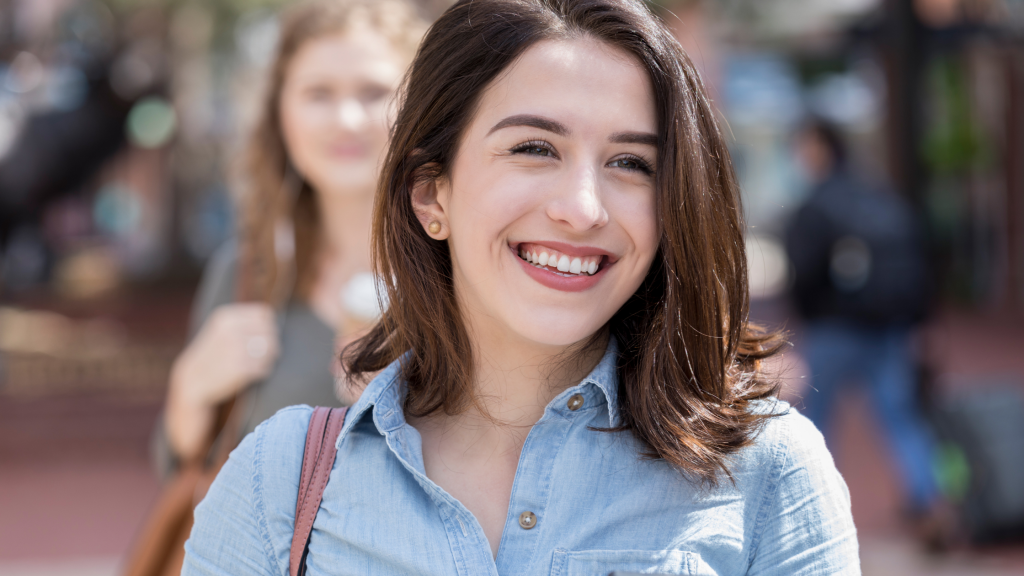 I remember my first day of college (although it was ages ago). I was excited and nervous at the same time. I was looking forward to a new chapter in my life but also a bit scared whether the students and teachers would be friendly, if I would find my classrooms without getting lost, and if I could catch up with all the lessons. Needless to say, it was stressful. To make matters worse, my skin started breaking out from the stress. Ugh!
It's back to school time once again, and this year back to school for most students would be in-person after a long period of exclusively online classes. For students who are back on campus in their dorms, there are safety restrictions (of course) and six feet of social distancing. Other students are doing a hybrid model, where they are doing both virtual and in-person coursework. And others are completely remote.
Whatever the format, here is a list of essential products for students to use back in school to make sure their skin makes the grade.
1. First and foremost, have plenty of masks available — both washable and disposable, and lots of hand sanitizer and gloves. Washing with soap and water works really well and is an important part of staying safe and protected but you need some back up when a sink, hot water and soap aren't around the corner.
Tip: Spray the inside of clean masks with a 2% salicylic acid or a tea tree hydrosol to help control breakouts. And emphasize the importance of using a clean mask every day.
2. Next, select an easy to apply wash-off cleanser that can be used morning and night. This will help to keep the skin clean in spite of late-night studying and constant mask wearing.
3. Bring a few spare pillowcases. These should be changed twice a week to prevent acne breakouts and for good hygiene.
4. Pack a lightweight daily moisturizer that is formulated for your skin type and can be used twice a day. Chances are you're going to need extra moisture while away, living through winter weather and colder temperatures. Think of one with hyaluronic acid or ceramides for an extra boost.
5. A sunscreen with an SPF 30 should be worn daily. UV rays can still penetrate clouds and cooler weather.
Tip: some sunscreens are also moisturizing and can eliminate the need for regular moisturizers in the morning as long as your skin is not too dry.
6. College dorms are known for their cavalcade of aromas, many of them pungent and unpleasant! Use essential oils to improve the atmosphere, sleep, concentration, reduce stress and increase well-being. Electric plug-ins are safe and easy to use and available on Amazon.
Tip: orange, grapefruit and lemon are great mood elevators. Peppermint and eucalyptus help with concentration. Lavender is calming and can be mixed with any other oil. And of course, all the essential oils improve air quality and smell great!!
7. Hand cream — hands can get very chapped from all the handwashing, especially in cold weather. Keep several tubes in your backpacks and dorm room.
8. Spot treatment — even with daily routines, acne and breakouts happen. That can certainly put a damper on being social even though it is somewhat restricted at the moment. Spot treatments can discourage picking and improve confidence.
Tip: Salicylic acid, tea tree oil and Neosporin crème are all available over the counter and suit most breakout situations.
Being prepped for safety and well-being will allow you to concentrate on your studies and stay focused while still enjoying your college experience.
"In school, you're taught a lesson and given a test. In life, you're given a test that teaches you a lesson." — Tom Bodett
For more skincare tips, call us at Skinsense Wellness at (323) 653–4701, or check out our other blogs on Medium. And for skincare services, please visit us at 8448 W. Third Street, Los Angeles, CA 90048. We have re-opened our doors and are happy to welcome you all back.