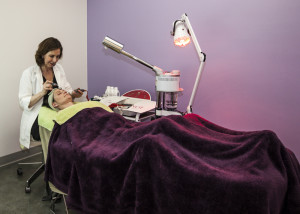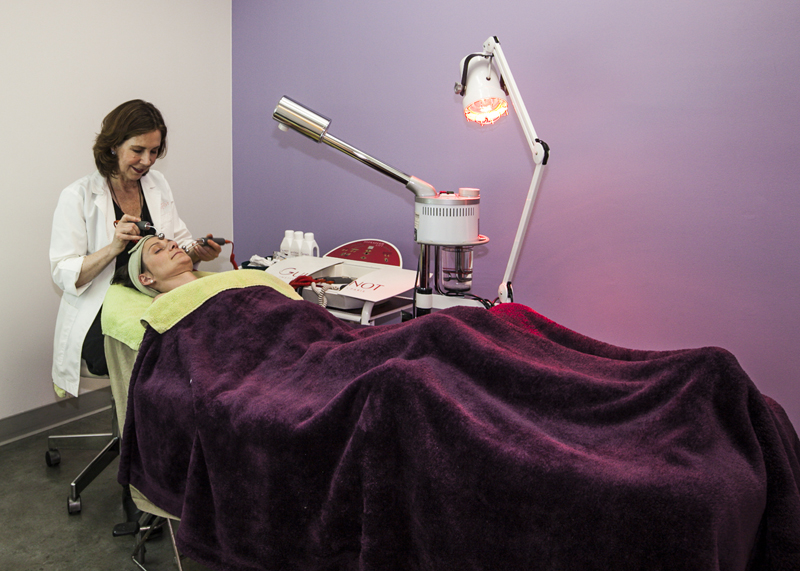 Electrical currents have long been a part of the SkinSense anti-aging arsenal. They provide many benefits for all skin types. So let's discuss the various protocols that we use continuously during our facials with great results.
Ultrasound:
Ultrasound consists of high frequency sound waves that are particularly good at getting rid of waste both on and in the skin. For example, we all love mineral cosmetics but the powders in particular tend to stick in the pores. Some sunscreens do the same thing. Ultrasound ensures that the pores are cleansed thoroughly and that the skin surface is scrupulously clean during treatment which enables later absorption of the anti-oxidants we apply.
Ultrasound also increases blood circulation, stimulates the lymph flow and reduces puffiness. Indulged in too much salt or not getting enough sleep? That tired, puffy look will vanish after an ultrasound facial.
The heat produced on the skin by the ultrasound current is mild and can be very healing for skin that has been burnt or for acne lesions that have left scarring. Not to mention the anti-aging benefits of collagen production.
The notable feature about the ultrasound unit we use is that the bracelet worn during treatment to conduct the current is a form of Galvanism.
The Galvanic current operates by electro-osmosis using negative and positive ions as a method of transport. It helps active ingredients, such as moisturizers and cleansers, do their work. This current is ideal to treat dry and sensitive skin.
High Frequency:
This is an electric current with a topical frequency of 10,000 or more cycles per second; it produces no muscular contractions and does not affect the sensory nerves but is very useful to ensure the skin is completely clean after extraction by killing bacteria and promoting healing.
This blend of electrotherapy ensures great results for a myriad of skin conditions and all three are very relaxing to experience.
I have been part of the skin care industry for a long time. When I first trained as a facialist, the products and protocols we learned were a lot less sophisticated than they are today. Even though we had botanicals and essential oils to work with and some of the electrotherapy that is still being used currently, the ingredients were not as advanced and the machines not as various or highly calibrated.
I have a lot more tools in my tool box these days which makes my work even more rewarding than ever. My favorite anti-aging stars include peptides, ATP, oxygen, stem cell extract, hyaluronic acid  and the old favorites, Retin-A, collagen and elastin. Ultrasound and microcurrent have also reaped great benefits for many of my clients along with galvanic and high frequency that work with even the most sensitive of skins. It is all about getting the skin, by stimulating its natural physiology and chemistry, to produce new cells, amino acids and proteins in larger quantities over longer periods of time than is normal with intrinsic aging. In other words, younger looking skin that defies our chronological age!
Good news indeed. What this requires however, is a balanced and judicious approach to just how much stimulation you subject the skin to and who is advising you about the different methods. Constant abrasion with lasers, aggressive topicals and peeling agents creates too much trauma, can damage the skin and increase sensitivity and pigmentation. Protocols have to be mixed and alternated in order to achieve optimum results and we have a  lot of 'smart' skin care formulas today that can send messages to cell receptors in the skin which makes aggressive topical treatments unnecessary. WE need to respect the skin as a fully functional and self regulating organ. For example, using microcurrent and galvanic electrotherapy with oxygen, peptides and hyaluronic acid during the summer months, coupled with anti-oxidant serums/cremes and sunscreen at home can prepare the skin for winter peeling protocols that would repair sun damage AND boost cell production.
One final and very important tip: avoid any products that combine any form of Retin A with sunscreen. ALL Retin-A products (this includes, Tazarac and Differin) must only be applied at night.
Take a look at what you have in your bathroom and on your next spa visit, review your home care routine with your facialist. Effective skin care requires discipline, planning and commitment – it is a habit that has to be repeated every day at home and every month at the spa to reap the rewards. Luckily, the rewards show up much more quickly today because of the technology and expanded knowledge we now have about the anatomy and physiology of the skin. And other people will notice the improvement in your skin too – I promise!
Peptides form a very large part of the biological signaling mechanism. They carry information to cells and they are also major regulators of life. A peptide is a chemical compound composed of amino acids. Two or more amino acids linked together form a polypeptide. The amino acids are joined in a specific sequence by peptide bonds. According to how the peptides are joined, specific amino acids and proteins are formed. Peptides respond to cell receptors, are water soluble and cannot enter the cell. Their signal is transmitted to the DNA in the cell through the membrane receptor. Peptides are used in skin care to increase the amount of collagen being produced in the skin, stimulate fibroblast growth, and stimulate the production of keratinocytes. In other words, to minimize wrinkles and relax muscular activity. Matrixyl and Argireline are the most popular peptides currently in use but many more are becoming available. They are most effectively used in specific areas of the face like the eye area and orbicularis oris. The best method to apply them is in serum form and with the use of electrical protocols – for example, microcurrent, galvanism and ultrasound.
To learn more about how we use peptides at SkinSense Wellness Spa contact us.